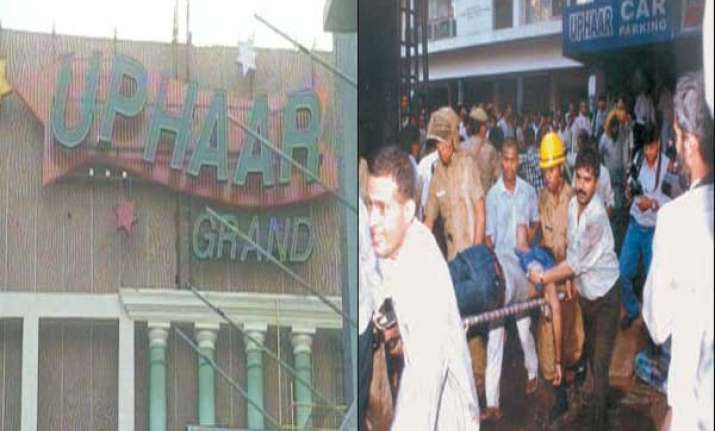 New Delhi: The Supreme court will pronounce its judgement today in the 17-year-old Uphaar cinema tragedy case, in which 59 people died of asphyxia and over 100 others were injured.
The apex court will give its verdict on a review petition filed on behalf of the tragedy victims seeking enhancement of sentences given to Sushil Ansal and Gopal Ansal, owners of Uphaar cinema in South Delhi.
CHRONOLOGY OF UPHAAR CRIMINAL CASE
13.06.1997: Fifty nine people die of Asphyxia and over 100 injured in the worst ever cinema disaster in the country due to fire at Uphaar cinema in New Delhi. The FIR was lodged in the Hauz Khas Police Station. The investigation was handed over to crime branch Delhi Police in the third week of June 1997. Subsequently the investigation was transferred to CBI on 26th July 1997.
15.11.1997: Charge Sheet filed by CBI against 16 accused.
20.11.2007: Judgement of Trial Court convicting all the 12 accused charge sheeted by the CBI. (4 accused died during the trial namely R M Puri Director Uphaar, Uphaar, K L Malhotra , D G M Uphaar, S N Dandona ( PWD) & Surinder Dutt ( DFS)
Sushil Ansal & Gopal Ansal – 2 years (u/s 304 A IPC, 337,338)
Radhakishan Sharma, Ajit Choudhary & N S Chopra (Managers – Uphaar Cinema) – 7years u/s 304 IPC
Manmohan Unniyal (Gate Keeper Uphaar Cinema) – 7 years u/s 304 IPC
B M Satija, A K Gera & Bir Singh (DVB) – 7 years u/s 304 IPC
H S Panwar ( DFS) – 2 years u/s 304 A IPC
N D Tiwari & Shyam Sunder Sharma (MCD) – 2 years u/s 304 A IPC
10.09.2008: The Hon'ble Supreme Court cancelled the bail granted to Sushil Ansal,Gopal Ansal by the High Court.
19.12.2008: Judgement of the High Court .The High court convicted 6 out of 12 convicted by the trial court. (Ajit Choudhary , Manager Uphaar died during pendency of appeal)
Sushil Ansal & Gopal Ansal – Sentence reduced to one year
Radhakishan Sharma & N S Chopra (Managers – Uphaar Cinema) - Acquitted
Manmohan Unniyal (Gate Keeper Uphaar Cinema) – sentence reduced to two years and convicted u/s 304 A IPC
B M Satija & Bir Singh (DVB) – Sentence reduced to two years u/s 304 A
A K Gera (DVB) - Acquitted
H S Panwar ( DFS) – Sentence reduced to one years
N D Tiwari & Shyam Sunder Sharma (MCD) – Acquitted
30.01.2009:.The Court issued notice on an SLP filed by Association of the Victims of Uphaar Tragedy for enhancement of sentence of Sushil & Gopal Ansa