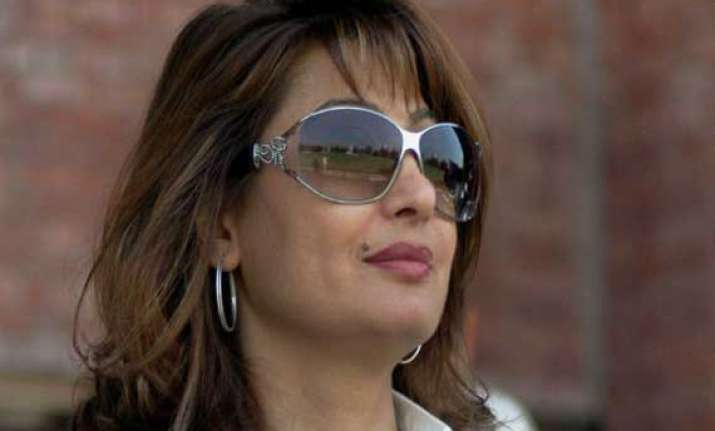 New Delhi: Controversy over claims by AIIMS Forensic Department head that he was pressurised to manipulate the autopsy report of Sunanda Pushkar which he resisted, refused to die down today with Sudhir Gupta sticking to his stand.
On its part, Delhi Police said it could question former Union Minister Shashi Tharoor and Gupta if needed. 
Tharoor refused to comment on the controversy, saying it was up to the investigators to resolve it.  "It is a process, we will leave it to investigators to sort it out," Tharoor told reporters.
Gupta maintained that he was pressurised to manipulate the post mortem report of Sunanda, Tharoor's wife, a day after AIIMS rejected his allegations.
"I stand by what I said. Even after the autopsy and before the cremation I had said that this was a case of unnatural death. If someone has a problem or slightest doubt over the autopsy report prepared by me, they can go for a second autopsy," Gupta said.
"Not only the post mortem of Sunanda Pushkar but in a number of cases, post mortem reports were finalised by me  and they are based on established principles and practise of medicine and as per its ethical and legal norm. My reports are bonafide. I have never succumbed to any pressure in my life," Gupta told PTI.
"How do they know there is no pressure on me? Who were they to clarify that there is no pressure on me? What was the hurry to call a press conference?," he said.  Gupta has alleged that he was pressurised into manipulating the autopsy report but he had refused to show that Sunanda's death was natural.
AIIMS spokespersons Amit Gupta and Neerja Bhatla had yesterday said that there was no evidence that any pressure from outside was put on Gupta to alter the autopsy report.
Gupta today said he has also written to AIIMS Director M C Mishra seeking permission to interact with the media to clarify his stand.
Meanwhile, Delhi Police Commissioner B S Bassi said that they want investigations into the case to be completed as soon as possible while reiterating that if needed they will examine Tharoor and Gupta.
"Delhi Police wants investigations in this case to be completed as soon as possible. If it is necessary, both Dr Gupta and Tharoor will be questioned," he told reporters here.
Asked if Delhi Police has given a clean chit to Tharoor in the case, Bassi said, "once we complete our inquiry, we will only then know. And, for the time being, our investigation is on."
BJP leader Subramanian Swamy today wrote to Prime Minister Narendra Modi seeking a CBI probe into her death. He claimed that the issue involved IPL's alleged money laundering case, hence it should be probed by the central agency.  
Congress leader Rashid Alvi said, "Different kinds of statements are being made. AIIMS official has said there was no pressure from the UPA government. After AIIMS officials have clarified, such kind of statements must be stopped."
Sunanda (52) was found dead in a 5-star hotel in South Delhi on the night of January 17, a day after her twitter spat with Pakistani journalist Mehr Tarar over an alleged affair with Tharoor.
The autopsy report had mentioned more than a dozen injury marks on Sunanda's both hands and an abrasion on her cheek which suggests a "use of blunt force", an injection mark besides a "deep teeth bite" on the edge of her left palm.  
Viscera samples were preserved after the autopsy at AIIMS and were sent to CFSL for further tests.
The CFSL report hinted at drug poisoning but its findings were not conclusive enough to file an FIR in the case, according to police.