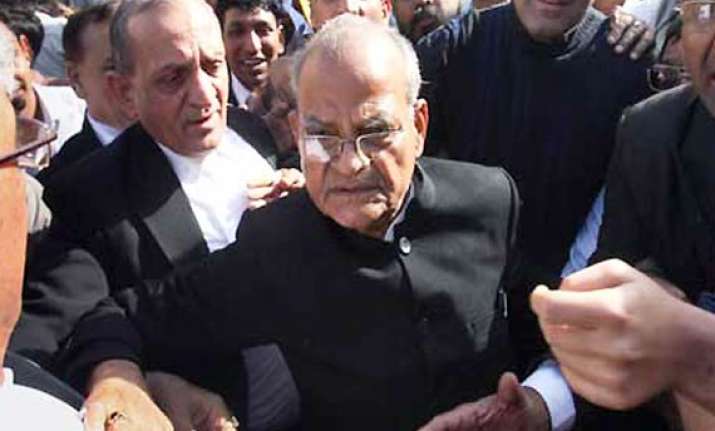 New Delhi, Nov 23: Former Telecom Minister Sukh Ram today moved the Delhi High Court challenging his conviction and sentencing by a trial court for taking Rs 3 lakh as bribe to award a lucrative contract to a telecom firm in 1996. 

86-year-old Sukh Ram, who had held the Telecom portfolio in P V Narasimha Rao's cabinet, was convicted last Thursday in a cable contract case. He was handed out five years jail term by Special CBI judge R P Pandey on Saturday and sent to jail.

A petition on behalf of Sukh Ram against his conviction and sentencing was filed in the high court's registry, said registry sources.

Sukh Ram had earlier also been convicted in two separate corruption cases in 2002 and 2009 but remained out of jail. 

Minutes after he was taken in custody on court's order last Saturday, the veteran politician from Himachal Pradesh was attacked by a Sikh youth outside the courtroom. 

The court had sentenced Sukh Ram to five year in jail and ordered his arrest, dismissing his plea for leniency on the ground of his age old.

"The octogenarian convict has already reaped the dividend of a long-drawn process of law and as despite having been convicted in two other corruption cases, he is enjoying freedom, which is passing a wrong message to the public at large and strengthen the popular belief that one can earn money by corrupt means and enjoy its fruits by spending some portion of it," the court had said.

Sukh Ram was convicted last Thursday for misusing his official position during his tenure as Telecom Minister in award of a contract worth Rs 30 crore to Haryana Telecom Limited (HTL), a private firm, to supply 3.5 lakh conductor kilometres (LCKM) of PIJF cables to the telecom department after taking Rs 3 lakh as bribe.

He had awarded the contract to HTL to supply cable to the government despite a Telecom Department official on October 8, 1995 pointing out that the HTL might not be able to supply requisite amount of cable and had proposed not to award it the contract to supply cables in excess of its ability. Despite that, Sukhram had ordered to give it the contract. 

Sukhram had been put on trial along with HTL Chairman Devinder Singh Choudhary, who died during the trial. 

The special court noted that Sukhram again on May 8, 1996 gave a contract to HTL for supplying more cables overruling a suggestion against it. The suggestion was duly endorsed by the Telecom Commission.

Besides the present case, Sukh Ram was awarded a three-year jail term in 2002 in a case lodged under the Prevention of Corruption Act relating to equipment supply that resulted in a loss of Rs 1.66 crore to the state exchequer.

The former Union minister was convicted and sentenced to three years jail in 2009 for possessing disproportionate assets worth Rs 4.25 crore. He, however, remained out of jail after being granted statutory bail in both the cases.