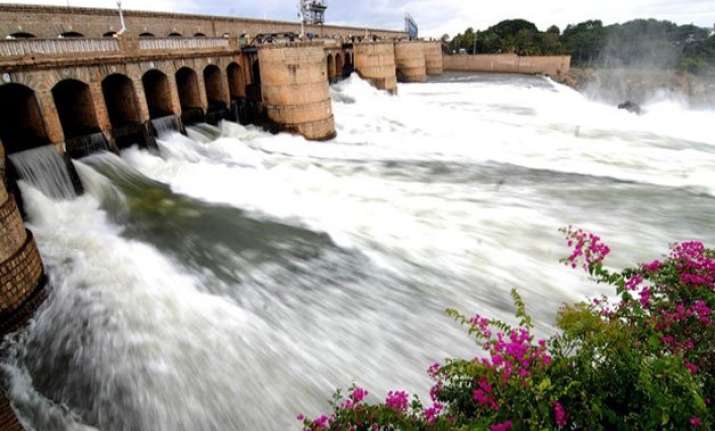 Chennai:A strike, called by Tamil Nadu farmers and backed by opposition parties and trade unions, over the Mekedatu reservoir row began in the state this morning amid tight security.
The bandh has been called to press the Centre to rein in Karnataka from going ahead with its plan build a dam across the Cauvery river at Mekedatu and to urge it to set up the Cauvery Management Board and the Cauvery Water Regulatory Authority.
The bandh has been supported by retailers, traders and opposition-backed transport corporation unions. It began with flash protests by an outfit supporting the bandh here.  A group of cadres of the Tamilaga Valvurimai Katchi, led by former MLA Velmurugan, resorted to protest in Koyambedu here and they were detained by police.
A sizeable chunk of shops were shut as Tamil Nadu's two big traders' associations, led by Vellaiyan and Vikramaraja, have supported the strike call.
State Assembly proceedings slated for today has been postponed to Monday.
Farmers' coordination panel chief P R Pandian has said that protests including "rail roko" will be staged across the state.
DMK, DMDK, PMK, MDMK, Congress and the Left parties are among those who are supporting the bandh. Ruling AIADMK has so far not formally supported the shutdown.  Police said security has been enhanced and vigil mounted across the state. Additional police personnel have been deployed in areas bordering Karnataka, at central government offices and railway stations.
Meanwhile, a delegation of all MPs from Tamil Nadu belonging to AIADMK, DMK, CPI(M) and BJP will call on Prime Minister Narendra Modi this evening and hand over a copy of the resolution adopted in the Assembly urging the Centre to rein in Karnataka from going ahead with its plan to build the dam across inter-state river Cauvery.
"This House urges the Centre to take immediate steps to stop preparation of a Detailed Project Report to build a new dam in Mekedatu by Karnataka," the resolution moved by Chief Minister O Panneerselvam and adopted unanimously yesterday said.
Panneerselvam had also urged all Members of Parliament from the state to call on the Prime Minister and give him a copy of the resolution and convey the state's stand and concerns over Karnataka's move.
CPI(M) state secretary G Ramakrishnan confirmed that the MPs are meeting the Prime Minister this evening. "Our party MP T K Rangarajan will be part of the delegation," he told PTI.  Meanwhile, police quoting initial outputs said the bandh is almost total in Cauvery delta districts, including Thanjavur, Tiruvarur and Nagapattinam.