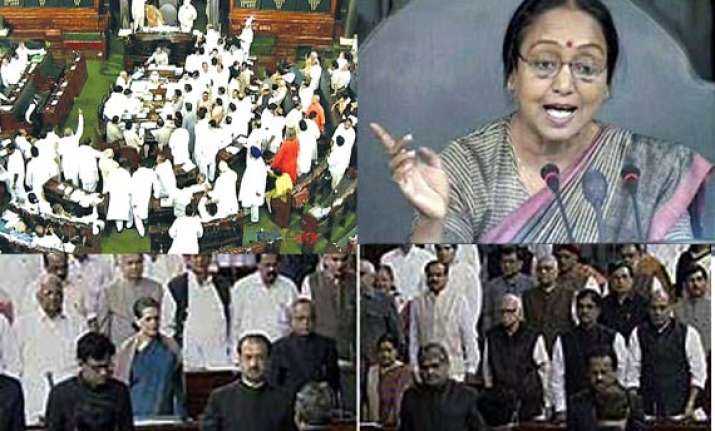 New Delhi, Nov 22: The opening day of winter session of Parliament was a washout on account of a range of issues including price rise and NDA boycott of Home Minister P Chidambaram but government and opposition have agreed on holding of a discussion on inflation tomorrow.

As expected, it was a stormy start for the session with members  raking up issues from prices to Telangana, better prices for cotton and 10 per cent quota for Muslims that led to uproar and an adjournment till noon and for the day later.

Chidambaram, who has been under attack from the BJP on the 2G issue, was the target of NDA ire when he rose to answer the first question of the day on naxal issue.

The entire BJP stood in unison in protest against the Home Minister, whom they have decided to boycott till he resigns.  The BJP wants Chidambaram's alleged role in 2G scam to be probed.

Slogan shouting by members on various issues forced Speaker Meira Kumar temporarily  and  Deputy Speaker Karia Munda later to adjourn the proceedings for the whole day without transaction of any business.

Among the many papers laid on the table was the statement by Finance Minister Pranab Mukherjee on the price situation.

After the disruption,  Mukherjee, who is also the Leader of the Lok Sabha, reached out to the Opposition by holding a luncheon meeting with leaders of the Left parties, who agreed that a discussion on price rise should take place tomorrow.

They did not not insist on an adjournment motion on the issue and agreed to a  discussion being held under a rule that does not not entail voting.

The BJP, which has announced support to the Left on the prices issue, is expected to table an adjournment motion on the issue of black money on Thursday.

However, BJP's campaign against Chidambaram did not not find much takers in the rest of the Opposition with the Left parties and groups like RJD and RLD saying they were not not in favour of targeting individual personalities.

Prime Minister Manmohan Singh also joined issues with the BJP saying there was no no case against Chidambaram and asked the party not not to fall to the temptation of boycott against him.

He also said several crucial economic legislations were due for passage during the session and warned that the Indian economy could witness a downward spiral if parties fail to join hands to push forward the development agenda.

Congress President Sonia Gandhi, who missed the whole of monsoon session because of her health, was back in Parliament today and was greeted by leaders.

Rajya Sabha was adjourned for the day shortly after obituary references were made to members and legendary singer Bhupen Hazarika  who had passed during the intersession period.