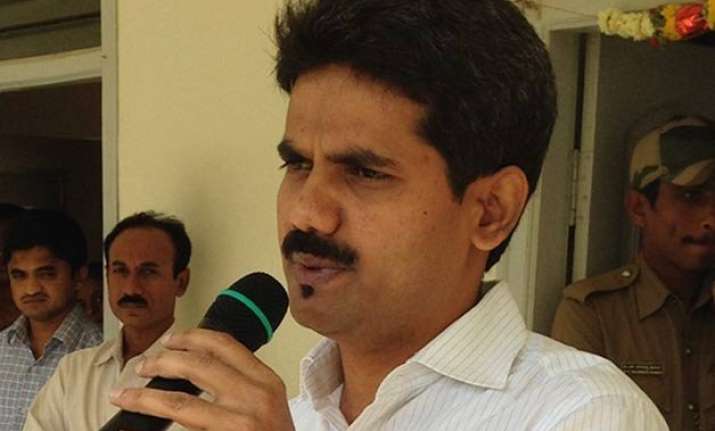 New Delhi: A day after a social activist and whistleblower Ganesh S Koundiny claimed that the IAS officer was planning raids on some big developers to unearth commercial tax evasion, demands grew louder for a Central Bureau of Investigation (CBI) probe into the death of DK Ravi.
"I had a conversation with Ravi on Thursday and Friday, if I remember. He told me that he had conducted raids on some developers and housing societies and recovered Rs 400 crore as income tax ... Ravi was looking at raiding some big developers in Bangalore and he wanted to recover the evasion of taxes," Koudinhy had said in Bengaluru.
The activist said that the deceased officer was eager to meet him to get some documentary evidence in his possession so they both could work together to unearth commercial tax violations.
35-year-old Ravi, a 2009 batch IAS officer who was deputed as the Joint Commissioner, state commercial taxes department, was found mysteriously hanging by a fan in the bedroom of his private apartment in Tavarekere in South Bengaluru on Monday.
In Kolar, Ravi was known as an upright officer willing to battle powerful lobbies in the interest of the common man. He took revenue adalats to the villages rather than restricting them to the district headquarters. His battles with the land and sand mafia in the region where he refused to buckle under political pressure earned him public support.
Opposition parties disrupted proceedings in the state assembly and continued to press for a CBI inquiry into the death of Ravi's death. Union Law Minister Sadananda Gowda of the BJP said he will meet Home Minister Rajnath Singh to demand a CBI inquiry into Ravi's death. But the Karnataka government dug in its heels, with both Chief Minister Siddaramaiah and state home minister KJ George ruling it out.
"There is a great suspicion in the minds of the people of Karnataka. Neither the state government nor the investigation agencies can conduct a free, fair investigation," said the former chief minister of Karnataka.
In an interview to NDTV, Siddaramaiah said, "It will be a CID probe. The police are perfectly capable of investigating the matter. There is no requirement for a CBI inquiry."
However, Ravi's father-in-law Hanumantharayappa asked the media to amplify their demand for a CBI probe.
"He was not the kind of person who would commit suicide. And if he did indeed kill himself, there must be a very strong reason. Only a thorough investigation can reveal what pushed him to take the extreme step," Hanumantharayappa said.
Ravi had become extremely popular as the deputy commissioner of Kolar for his work in ridding encroachments and other "honest" works, was recently transferred to become the joint commissioner of the commercial taxes department.
There were widespread protests in Karnataka yesterday following Ravi's death as locals called for a shutdown in Kolar district of Karnataka. Angry protesters in Kolar district also blocked a National Highway placing burning tyres before being chased away by police.
The house of local MLA in Kolar Varthur Prakash was stoned but police rushed and dispersed the protesters, police said.
Bangalore Police Commissioner M N Reddi said that forensically, medically and examination of the situation all point to "prima facie understanding of a suicide."
He said Ravi was a "bold officer" and it was natural for people to think he was not a person to have committed suicide.
He, however, added, "let us wait for the medical report...no single angle will be untouched.... every angle will be covered."