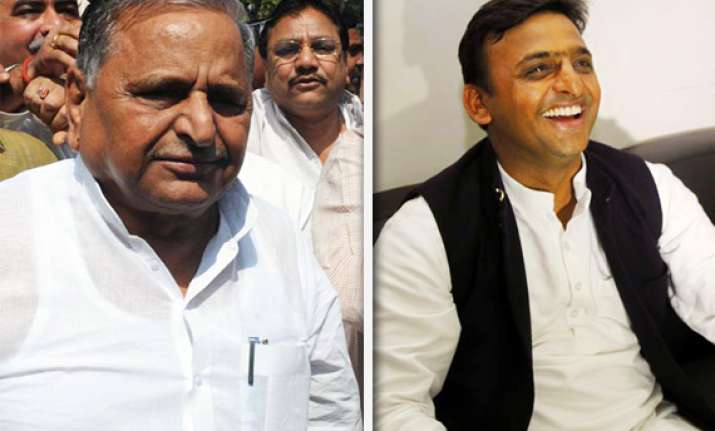 Lucknow, Mar 9: Akhilesh Yadav seems to be emerging as the next Chief Minister of Uttar pradesh, Samajwadi party sources said tonight, a day ahead of the SP legislature party meeting.

Officially, a decision on 38-year-old state SP president Akhilesh or his father, Mulayam Singh Yadav would be taken only tomorrow at the legislature party meeting being held within four days after the SP swept to power with a thumping win in the state Assembly polls.

Party sources said that the senior members like Azam Khan and Akhilesh's uncle, Shivpal Singh Yadav, who were in favour of the father taking over as CM, were spoken to by Mulayam Singh.

It was not clear whether they had come around to Akhilesh's appointment but there were indications that he would be handed over reins of the state.

There reports that Azam Khan will be offered the UP Assembly Speaker's post while Shivpal will be accomodated with a key ministerial portfolio.

On his part, Mulayam Singh kept up the suspense. "We don't have anything to say today. The legislature party will meet tomorrow when the leader will be chosen. All MLAs and MPs will take part in the meeting,"he told reporters here.

Akhilesh too added to the guessing game by evading questions on the chief ministership issue.

Ever since the election results were out, there has been speculation as to who would be the chief minister.

A number of newly-elected MLAs want Akhilesh as the new CM, crediting him with the party's change of fortunes with his spirited campaign before and during the elections.

The SP got a majority in the 403-member Assembly by winning 224 seats.

However, some of the senior leaders felt that Mulayam should take charge and not allow any bad blood at the start of a new innings for the SP.

This section is of the view that the Samajwadi veteran would be a better choice at this moment when there has been a sudden outbreak of violent incidents in the state, which it sees as a deliberate attempt to sully the party's image.

The situation requires handling by a seasoned leader rather that a greenhorn in administration, they feel. Azam Khan met Mulayam Singh tonight and suggested that the SP supremo should become the CM. Party sources said there was no discussion at the meeting on Khan getting the Speaker's post.

"Law and order situation will be improved. It will be better. If anyone is found indulging in goondaism, even if he is a SP worker, he will be punished severely," Mulayam told reporters after he called the Director General of Police (DGP) and Chief Secretary Anup Kumar Mishra and reviewed the situation.