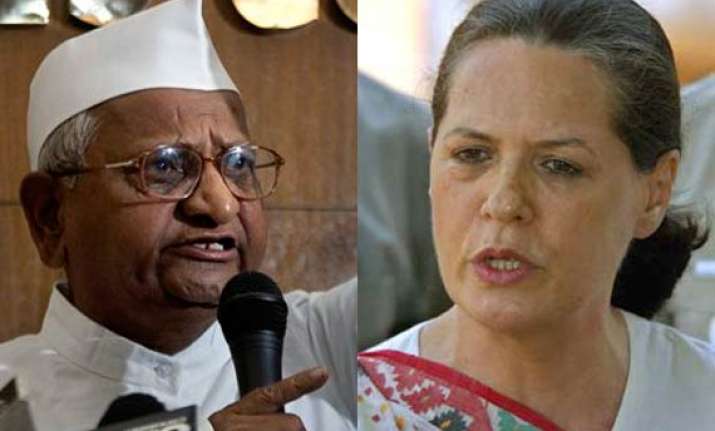 New Delhi, Jul 2: Team Anna on Saturday concluded its programme of contacting political parties with a call on Congress president Sonia Gandhi ahead of Sunday's all-party meeting on the Lokpal Bill. 

Sonia Gandhi assured social activist Anna Hazare that she would convey his views to the government, according to Congress general secretary Janardhan Dwivedi, who was present at the meeting.

Finance Minister Pranab Mukherjee, who headed the joint panel on the Lokpal Bill, and Congress leader Mohsina Kidwai were present.

Dwivedi said no contentious issues were raised and the 30-minute dialogue was cordial. While Hazare presented his views on the Lokpal Bill, the Congress too explained certain points.

Dwivedi declined to say whether the meeting was a success and said the Congress would support the collective wisdom emerging from the all-party meeting and Parliament.

Hazare said he presented his version to Sonia Gandhi and demanded that the government present a "proper" Bill before Parliament.

He reposed faith in the political and parliamentary process, but said if the Bill was not a "proper" one he would be compelled to resume fast at Jantar Mantar from August 16.

Once a "proper" draft was introduced in Parliament, the civil society members would have nothing to say as they believed in the parliamentary process and democracy, Hazare said.Social activist Arvind Kejriwal, who accompanied Hazare, said the differences were on 15 issues and expressed the hope that the government would resolve them.