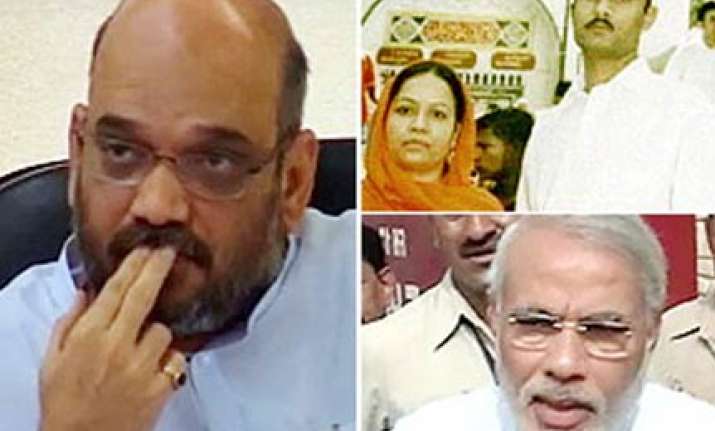 New Delhi: The Supreme Court on Thursday  granted three months' extension to the CBI to complete its investigation into the Sohrabuddin fake encounter case in which Amit Shah, the former Gujarat minister and a close aide of Chief Minister Narendra Modi, has been arrested.
The order in this regard was passed amidst strong protest by Shah's lawyer and senior advocate Ram Jethmalani who questioned the apex court direction of a CBI probe into the case.  
He alleged that the bench which gave the order for a CBI probe on January 12 included Justice Tarun Chatterjee (since retired) who was himself was under the scanner of the probe agency which was investigating the UP Provident Fund scam case.  
Solicitor General Gopal Subramanium, who is assisting the court in the matter, took strong objection to Jethmalani's submission and said if such was the case, then Gujarat government should have pointed it out at that stage only.
Even the bench comprising Justices Aftab Alam and R M Lodha expressed its displeasure on submission made by Jethmalani and asked him to refrain from mentioning about the former judge.  
Jethmalani made the submission after the bench wanted to know from him as to on what ground the January 12 decision of the court ordering the CBI probe in the case could be recalled.  
After the counsel from all the sides were pacified, the bench went ahead with the hearing and passed the order giving three months' extension to the CBI to complete the probe.  The bench declined the plea of Shah that he should be given time to respond to the CBI plea seeking extension of six months to carry out its investigation. "We are not inclined to give time to reply to the plea of the CBI," the bench said, adding, "since the investigation is not complete three months time is granted to the CBI".   
The court said that extension was granted as the CBI has to investigate the larger conspiracy involving the killing of Prajapati, an eyewitness to Sohrabuddin's killing in November 2005.  Prajapati was also killed in a police encounter in 2006 end.  The court directed the CBI to file a status report about its investigation after three months in a sealed cover. PTI