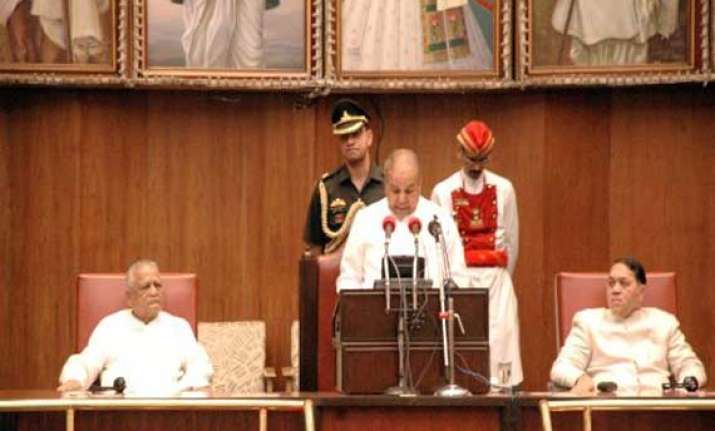 Mumbai : The opposition Shiv Sena-Bharatiya Janata Party (BJP) Sunday threatened to disrupt Maharashtra Governor K. Sankaranarayanan's budget session speech Monday over four crucial issues, including the Adarsh Society scam.
The opposition boycotted Chief Minister Prithviraj Chavan's customary session-eve tea party Sunday evening and demanded replies to four crucial issues, including rejection of sanction to prosecute former chief minister Ashok Chavan in the Adarsh scam.
"We shall not allow his speech. Until and unless we get replies from the government on the issues," leader of opposition Eknath Khadse told media.
He said toll collection, clarity on local body tax (LBT) and 16 ministers facing corruption charges were the other major issues.
Prithviraj Chavan later dubbed the opposition move as "unfortunate".
"This kind of language - 'we would not allow' and 'we will disrupt' - is not good," he said.
"We will discuss all issues. If you want replies, you will get them in the house," he said, urging the need for maximum discussions.
Khadse also criticised the government for curtailing the budget session to just five days.
"Since the Lok Sabha elections have not yet been announced and code of conduct is not in force, the government should have gone for a full session and tabled the budget, rather than a vote on account," he said.
Leader of opposition in the Legislative Council Vinod Tawde said there would be no question-and-answers, no calling attention notices and the governor's address would take place in the next session.
The opposition also hit out at the government for its failure to make a significant break-through in the Aug 20, 2013, killing of rationalist Narendra Dabholkar in Pune.
Khadse also demanded a white paper on the status of the state's economy since debts have mounted to Rs.2.93 lakh crore in 15 years.
Shiv Sena leader Diwakar Raote, meanwhile, questioned the repeated paroles granted to Bollywood actor Sanjay Dutt while Sadhvi Pragya Singh Thakur, an accused in the Malegaon 2008 blasts, was denied the same on health grounds.