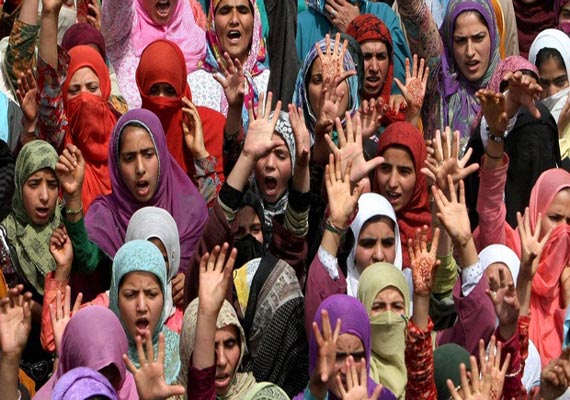 Shias in Bangalore protest attack on shrine of Prophet's granddaughter Sayyeda Zainab in Syria
India TV reporter
Bangalore, Jul 27 : Shiia Muslims on Friday staged a protest here against the rocket attack on the shrine of the Prophet's granddaughter in the Syrian capital of Damascus last week. 
The rocket strike near the Shia muslim shrine in Damascus killed a custodian of the site on Friday,  in an attack that could inflame sectarian tensions in Syria's 28-month-old conflict. 
The shrapnel killed Anas Romani, the caretaker of the gold-domed Sayyeda Zainab shrine in the capital's southern suburbs, a renowned pilgrimage destination for Shias  from Iran, Iraq, Lebanon and beyond. 
A large number of men, women and children marched through the streets of Bangalore in the protest march.  
Holding banners reading 'ya zaynab (sa) we will protect your shrine by sacrificing our lives', 'I protest against terrorist attack on bibi zainab. …shrine in syria', they expressed their fury against the attack. 
The protesters  hav sent a memorandum to the Indian government for safety of the shrine. 
The protesters blamed Syria's rebel faction, 'Free Syrian Army' as the mastermind behind the attack. 
"This group which has claimed that it has damaged the holy shrine is called the Free Syrian Army. The Free Syrian Army is an evil nexus of the Americans, the Israelis and the Al-Soud family; the nexus of the evil, which is destroying the very fragment of humanity," said Amir Ali Badami, another protester. 
There were conflicting reports about damage to the shrine. 
The British-based Syrian Observatory for Human Rights, which has a network of activists across Syria, cited sources as saying the shrine's blue-tiled sanctuary, had been hit. 
The Syrian government has accused rebels of targeting Sayyeda Zainab, which is now protected by hundreds of Shi'ite militants from Iraq and the powerful Lebanese Hezbollah group. 
They have been helping Syrian President Bashar al-Assad's forces battle rebels mostly from the Sunni Muslim majority, whom they accuse of threatening Shi'ite symbols in Syria. 
Syria's uprising-turned-civil war has sectarian dimensions that risk spilling over into neighbouring Iraq and Lebanon, which have both suffered their own communal conflicts. 
Several Syrian minorities have supported Assad, including his own Alawite sect, an offshoot of Shia  Islam. They say they fear the rising Sunni Islamist current in the insurgency. 
Hezbollah leader Hassan Nasrallah has said protecting Sayyeda Zainab is vital for his group, which now openly acknowledges its involvement on Syria's battlefields, and has threatened 'grave retribution' if any harm befalls the shrine. 
The modern mosque houses what Shias believe is the tomb of Zainab, the granddaughter of  rophet Mohammad.