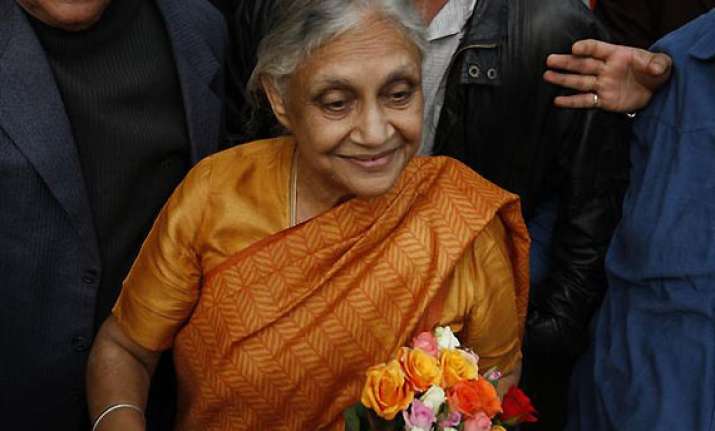 New Delhi: Delhi Chief Minister Sheila Dikshit today exhuded confidence of a fourth straight victory in the December 4 assembly elections, saying her government's "performance" in the last 15 years will be the main poll plank
Reacting after Election Commission announced dates for the assembly poll, Dikshit, who will lead Congress in the electoral battle, said "I am totally confident of Congress' victory in the election. We are fully prepared for the fight. I am sure people of the city will continue to support us."
Dikshit, who led Congress to three straight wins in Delhi beginning 1998 and has been at the helm of affairs for 15 years, said development work carried out by her government has been "visible" in the city and she will seek people's support based on her performance.
"Whatever we have done in the city in the last 15 years is visible. People can feel what transformation the city has undergone. We have ensured welfare of each and every section of the society," the 75-year-old Congress leader told PTI.
Asked about opposition BJP, Dikshit said the party is yet to announce their agenda for the capital.
"Let's see what they have to say. So far they have not come out with anything concrete," she said.
The Chief Minister said her government has transformed Delhi into a better city.
To a question on whether Congress will fight assembly election in Delhi under the leadership of Dikshit, Congress spokesperson Meem Afzal today said that "it is obvious that she is our Chief Minister."
"In party, elections are fought under over-all Congress leadership to which Dikshit also belongs. Shiela is a big leader," he said at the AICC briefing.
A senior Minister in Dikshit's cabinet said "achievements" of Dikshit's government will be aggresively projected during the campaign for the election which is all set to be a three-cornered contest among Congress, BJP and Aam Admi Party.
He said instructions have already been issued to rank and file of the party to publicise various welfare schemes of the Centre as well as city government.
A senior party leader said regularisation of 895 unauthorised colonies and rolling out of the Food Security Scheme first in the country will be two major points Congress will highlight during the campaign.
The unauthorised colonies are considered traditional Congress vote-bank and the city Government had regularised 895 colonies out of 1,639 such settlements in September last year, heeding to a long standing demand of the residents.
The government has initiated developmental projects in colonies which are yet to be regularised.