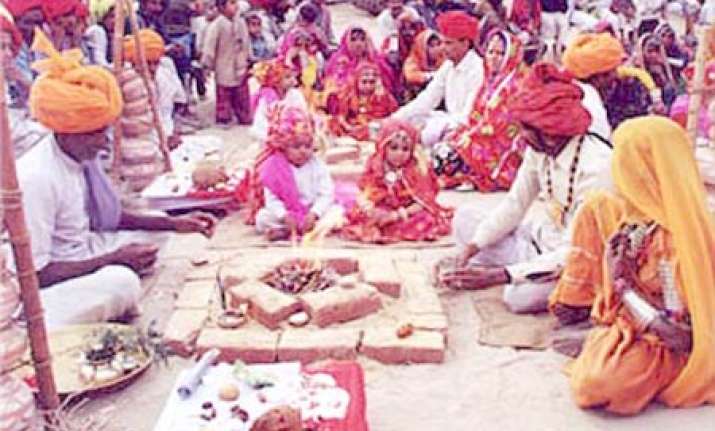 New Delhi, Nov 23:  A high-level committee constituted by Union Home Minister P Chidambaram last year to look into the issue of amendments to rape laws is all set to recommend that intercourse with a girl less than 18 years of age, even if she is a wife, be made a criminal offence, punishable with seven years' imprisonment, The Indian Express reported.
A husband, if he has sexual relations with his lawfully wedded wife who is less than 18 years of age, will be committing a crime under the amended law. Simply put, this means that marrying a girl less than 18 years will now be a criminal offence and not a civil offence as is the case now. It remains to be seen how Muslim groups, especially Mullahs, react to the proposed changes as under Muslim law, a woman is deemed old enough to get married the day she attains her puberty, her real age notwithstanding.
The committee is also going to recommend that intercourse with a girl below the age of 18 years, even if consensual, should be a criminal offence.
"At present, even though the minimum age of marriage of girls is 18 years, unless one of the two parties in the marriage objects and files a complaint, no law enforcement agency can take cognisance. What we are proposing is that this should be made a crime where the police can take suo motu cognisance," explained a member of the committee.
In its report, the committee, which is headed by Union Home Secretary G K Pillai and comprising Secretaries in the Union Ministries of Legal Affairs, Legislative Department, Women and Child Development, Member-Secretary, Law Commission of India, Member-Secretary, National Commission for Women and Shashi Bhushan, Consultant (Judicial) in the Home Ministry, is also going to submit a draft Bill on rape laws.
One of the most important recommendations of the committee is that it wants a separate clause in the Indian Penal Code to deal with the offence of acid attack. Currently, cases of acid attacks on young girls by jilted lovers are dealt under Section 326 of the IPC. Now, the panel wants separate clauses — 326 (A) and (B) — to be added to the IPC to deal with this gruesome crime. The minimum punishment for accused in acid-throwing cases, the panel says, should be 10 years in jail and fine which could go up to Rs 10 lakh. The fine amount, the panel says, should be given to the victim of the acid attack.
Moreover, even if nobody gets hurt in the acid attack, the guilty will attract a prison term of at least five years and fine.Another significant recommendation of the panel is that a new offence dealing with sexual abuse of a minor be added to the IPC. The minimum punishment in such cases would be seven years.
The panel also wants that Section 198 of the Criminal Procedure Code be amended to substitute "sexual intercourse" with "sexual assault".Another important recommendation is to amend Section 146 of the Indian Evidence Act, 1872 to make it impossible for the accused or his/ her lawyer to question the rape victim's moral character, previous sexual experience, etc.
Sexual assault by a police officer or any government servant or politician is also going to be an offence, punishable with rigorous imprisonment of not less than 10 years.