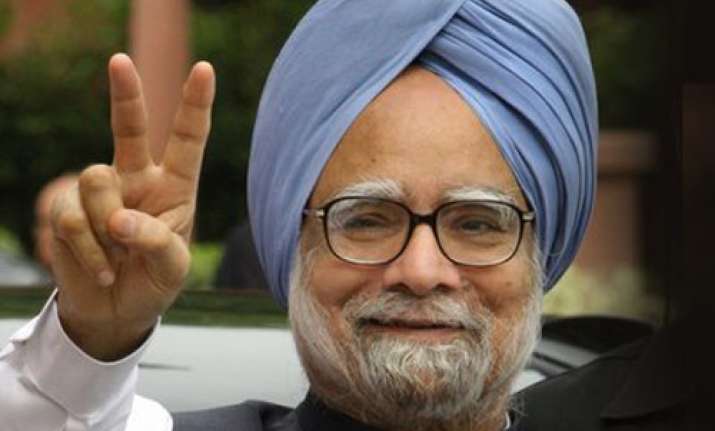 New Delhi, Feb 24 : Sharing concerns of all sections over scams including those involving 2G spectrum and CWG,Prime Minister Manmohan Singh today asserted in Parliament that his government would do everything to clean the "public life" and ensure that "no wrong-doer" goes unpunished.
He referred to the decision to form JPC into 2G scam and the probe being undertaken by the CBI in various corruption cases and said his government would "fully cooperate" with all the agencies "so that the truth comes out".
Replying to a debate in the Lok Sabha on Motion of Thanks to the President's Address, Singh also said everything would be done to bring back black money stashed abroad as "we are one with Opposition" on the issue.
Underlining that the problem of black money had not occurred only four to five years back but was older than that,he said the government was ready to "sit" with all parties to discuss how to deal with it and "all constructive suggestions"would be considered.After Singh's reply, the Motion was adopted by voice vote.
During the 55-minute, the Prime Minister responded point-by-point to various issues raised by members concerning corruption, inflation, internal security and foreign policy.
Referring to the scams that were highlighted by members,Singh said, "I don't deny that unfortunate developments have taken place in the areas of telecom and Commonwealth Games."
He said these concerns are being addressed and whenever "credible and actionable evidence" is being found, action is taken. In this regard, he pointed out that Chief Ministers and Union Ministers have resigned after allegations were leveled against them and the CBI is on the trail of the scams."I assure this House that there is nothing that we will not do in order to clean our public life," Singh asserted.
Talking about the controversial 2G spectrum allocation, he said, "If there is a scam, it must be dealt with. Law of the land will punish the wrong doers."At the same time, he said, "We must not overlook the fact that there is tremendous growth in the telecom sector which has taken place."He defended the telecom policy, which was pursued since 1999, saying it had paid "rich dividends" and said the fault lay with the implementation.
With regard to the CWG, he said the Games were very successful despite doubts that were expressed earlier.
"There were complaints of wrong-doings even before the Games and from the ramparts of the Red Fort, I had promised that if a wrong thing has been done, we will investigate the matter. If found guilty, no one will be spared," he said."No wrong-doer can escape punishment," Singh said, noting a high-powered committee was looking into the issue. 
Other issues raised in the PM's reply: 
KASHMIR:
-Government will give no quarters to secessionists; to do everything to strengthen hands of the J&K  Government ;
-J&K
passed through difficult times last summer, we are keeping fingers crossed this summer. We will be vigilant to ensure similar events do not recur:
PAKISTAN:
-We are willing to resolve all outstanding issues with Pakistan; we sincerely hope Pakistan will grasp our hand of friendship;
SRI LANKA:
-Sri Lanka must arrest Indian fishermen straying into their territory and not fire at them; that is not acceptable;
INLATION:
-Inflation in last 18 months has become a problem; 
-Government's policy is to control inflation in a manner that does not hurt employment growth.
-inflation to come down to seven per cent at the end of this fiscal.
-As far as cereal prices are concerned, we have sufficient accumulated stock; can stabilise prices of cereals, wheat, rice.  PTI