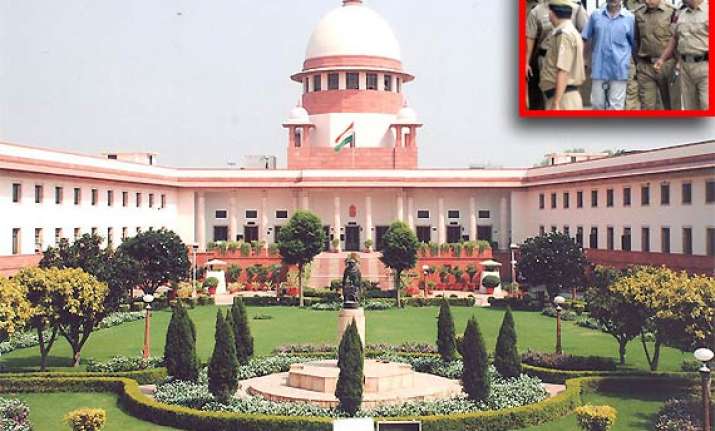 New Delhi, Aug 10: The Supreme Court on Wednesday confirmed the death sentence of arrested Lashkar-e-Toiba militant Mohammad Arif for masterminding and carrying out the December 2000 Red Fort attack. 
A trial court in November 2005 had awarded Arif, alias Ashfaq, the death sentence. Additional Sessions Judge O P Saini had also fined Arif Rs 4.35 lakh for the attack that had left two Rajputana Rifles jawans and a civilian dead.

On December 22, militants had stormed the Red Fort and opened fire on an Army camp inside. (See chronology below)

The Delhi High Court in 2007 had upheld the trial court's life sentence for Arif, and acquitted the other accused, including his Indian-born wife Rehmana Yusuf Farooqi. The others had served their sentences by then.

Saini handed down the judgement to Arif under various sections of the Indian Penal Code for waging war against India.

Arif's wife Farooqi was sentenced to seven years' rigorous imprisonment for sheltering her husband "before and after the incident".

A father-son duo – Nazir Ahmed Qasid and son Farooq Ahmed Qasid -- were sentenced to life and fined Rs 1 lakh of criminal conspiracy in the case.

Justice Saini also sentenced Babar Mohsin Baghwala, Sadaqat Ali and Matloob Alam to seven years' imprisonment for their complicity in the attack.

The LeT militant was sentenced to death under Section 121 (waging war against the country) and Section 302 (murder). He was also sentenced to life imprisonment under the Explosives Substances Act, 10 years' rigorous imprisonment for conspiracy to wage war and seven years each for cheating and forgery. He was also handed a five-year jail term under the Foreigners' Act.

Terming the crime as the "rarest of rare", Justice Saini had said: "...such dastardly acts are being committed with increased frequency these days, in which many people are being killed with impunity... This needs to be curbed with a heavy hand. Death sentence is one such deterrent measure".

The attack and after

December 22, 2000: Two Lashkar-e-Toiba militants sneak into Red Fort and open fire on guards of the Seventh Battalion of Rajputana Rifles killing two jawans and one civilian.

December 26, 2000: Pakistani LeT militant Mohammad Arif alias Ashfaq and wife Rehmana Yusuf Farooqui arrested.

Two LeT milltants allegedly involved in the attack, Abu Shyamal and Abu Sufian, killed in encounter in Okhla in South Delhi and Srinagar respectively.

Accused Abu Sufian, another Pakistani national and LeT's Srinagar 'Commander', killed in Srinagar.

February 20, 2001: Delhi Police files chargesheet against Ashfaq and 21 others.

March 25, 2001: Delhi Police file supplementary chargesheet.

September 11, 2001: Trial of 11 accused begins.

May 10, 2002: Accused Abu Bilal, a 'district commander' of LeT killed in Delhi's Nizamuddin area.

December 4, 2002: Court frames charges against Ashfaq and ten others

September 26, 2003: The Delhi High Court orders day-to-day trial

October 31, 2003: Revised charges framed on HC directions

September 27, 2004: HC dismisses a revision petition by four accused - R K Malhotra, Moolchand Sharma, Saqdaqat Ali and Baba Mohsin Baghwala

October 29, 2004: Prosecution evidence closed after 235 witnesses examined.

February 2, 2005: Recording of defence evidence begins.

February 11, 2005: Defence evidence concludes

March 14, 2005: Defence arguments begin

May 27, 2005: Defence arguments end.

October 14, 2005: Court reserves judgement

October 24, 2005: Court convicts seven accused, lets off four

October 29, 2005: Sentence pronouncement deferred

October 31, 2005: Convicted Ashfaq ordered to be hanged

The main players

Mohammad Arif alias Ashfaq: Pakistani national. Sentenced to death for waging war against the Govt. Fined Rs 4.35 lakh. Judgement said, "He organised the entire attack by setting up bases in Delhi... he led the members of the LeT at the time of the attack."

Rehmana Yusuf Farooqi, Indian wife of Ashfaq: Sentenced to seven years' rigorous imprisonment and fined Rs 20,000 for sheltering her husband before and after the incident. The judge said her offence was "her non-disclosure of the design of Mohammad Arif".

Nazir Ahmed Qasid and Farooq Ahmed Qasid, father and son. Farooq was Ashfaq's contact in Kashmir. Duo found guilty of criminal conspiracy. Sentenced to life imprisonment and fined Rs 1 lakh each.