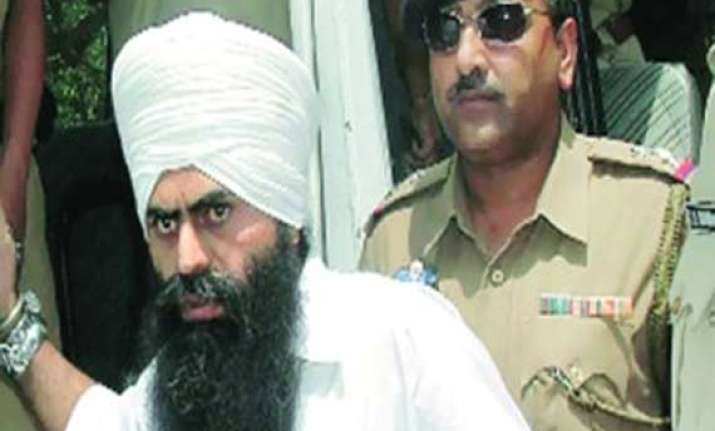 New Delhi : The Supreme Court said Monday that if the government fails to take a decision on terror convict Devinderpal Singh Bhullar's plea seeking the commutation of his death sentence into life imprisonment, then it would decide the matter.
A bench of Chief Justice P. Sathasivam, Justice R.M.Lodha, Justice H.L.Dattu and Justice S.J.Mukhopadhaya said this as Attorney General G.E. Vahanvati told a court that the government has yet not taken the decision and sought some more time.
Accepting the plea by the attorney general, the court directed the listing of the matter March 26.
The court had Feb 26 given the central government two weeks time for it to take a decision on Delhi Lt. Governor Najeeb Jung's Jan 6 recommendation to accept the mercy petition.
Vahanvati, in the Feb 26 hearing, told the court that the mercy petition along with Jung's recommendation would be processed by the home ministry and will be sent to President Pranab Mukherjee.
Jung had said: "The question before me is whether in terms of moral principles such a person can be condemned to death. In many ways it would appear as if a child without a mind and in poor health is condemned to death for an incident that he committed when his mind and body were in a completely different state.
"On principles of human ethics, and natural justice I cannot bring myself to recommend the rejection of the mercy petition of Smt. Navneet Kaur."
Navneet Kaur, the wife of Bhullar, had moved a curative petition in September 2013 challenging the rejection of her and Bhullar's review petition on April 12, 2013. She pressed for her curative petition after Jan 21 apex court verdict which had upturned the April 12, 2013 judgment.
The court by its Jan 21 judgment had said the commutation of death sentence into life imprisonment on the grounds of inordinate, unexplained and unreasonable delay in deciding the mercy petition was not limited to the death row convicts tried under the provisions of criminal law but also to those convicted under anti-terror law.
Vahanvati Feb 26 had told the court that the Jan 6 recommendation of Jung favouruing accepting the mercy petition was sent to the President's office without accompanying mercy petition by Navneet Kaur. And now after examining everything the final recommendation would be forwarded to the president, he added.