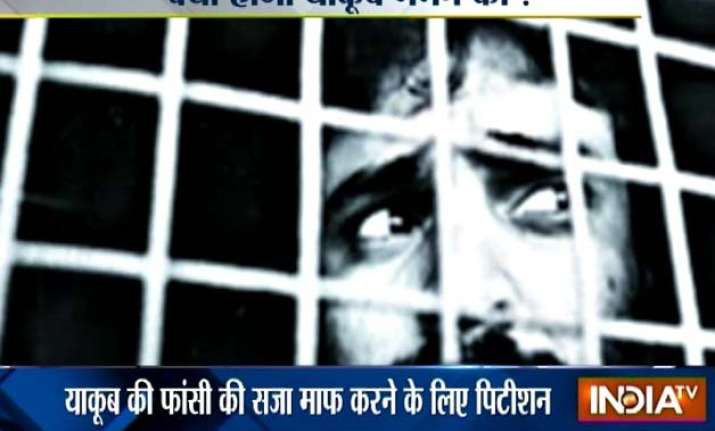 New Delhi: The Supreme Court will today hear a plea filed by 1993 Mumbai bomb blasts death row convict, Yakub Memon, who has sought a stay on his execution slated for July 30.
Memon moved the apex court contending that the death warrant for his execution was issued before he could have exhausted the legal remedies available to him and when his curative petition was pending consideration by the court.
The apex court on July 21 rejected Memon's curative petition saying it was void of merit. On the same day, he filed a mercy petition before the Maharashtra Governor seeking commutation of his death sentence to life imprisonment.
Yesterday, leaders of various parties including prominent lawyer Ram Jethmalani, eminent jurists and persons from different walks of life submitted a petition to President Pranab Mukherjee requesting him to waive the death sentence of Memon.
Bollywood superstar Salman Khan also voiced against the death penalty, saying he should not be punished for his brother Tiger's crime.
"Hang Tiger. Brother is being hanged for Tiger. Aarrre (Where) is Tiger? Get Tiger. Get Tiger hang him. Parade him, not his brother," Salman tweeted on Saturday night, referring to Ibrahim alias Tiger Memon.
He, however, later apologised for his tweet, but said he stood by what he had said earlier.
Salman tweeted: "What I said is that Yakub Memon should not hang for him (Tiger). I have not said or implied that Yakub Memon is innocent. I have complete faith in the judicial system of our country."
All India Majlis-e-Ittehadul Muslimeen (AIMIM) chief Asaduddin Owaisi also sparked a row by saying Memon was being hanged because he belonged to a particular religion.
Last week, news portal Rediff.com had published an article written by B Raman, former Additional Secretary in the Cabinet Secretariat. The article, which was written by him in 2007 said that the lone surviving convict in the 1993 Mumbai serial blasts does not deserved to be hanged.
Memon, in his petition before the apex court, relied on the court's May 27 verdict where it quashed the death warrant issued for the execution of a woman named Shabnam and her paramour Salim, both convicted for multiple murders of members of the girl's family, on the ground of it being illegal as due procedure was not followed.
Quashing the death warrant, the court had held that the "right to live under article 21 does not end with the confirmation of the death sentence by the Supreme Court".
Memon and 11 others were slapped with the death penalty by the special TADA court in July 2007 for the 1993 bomb blasts in which 257 people were killed and 712 were injured.
The top court by its March 21, 2013 verdict upheld his death sentence while commuting the death sentence of 10 others (one having died subsequently) to life imprisonment.
The court on April 9 dismissed Memon's plea for the review of his death sentence for the second time, as it had earlier dismissed a similar plea seeking recall of the March 21, 2013 verdict.
On 12 March 1993, 12 coordinated blasts rocked India's financial capital city, Mumbai, killing over 250 people.