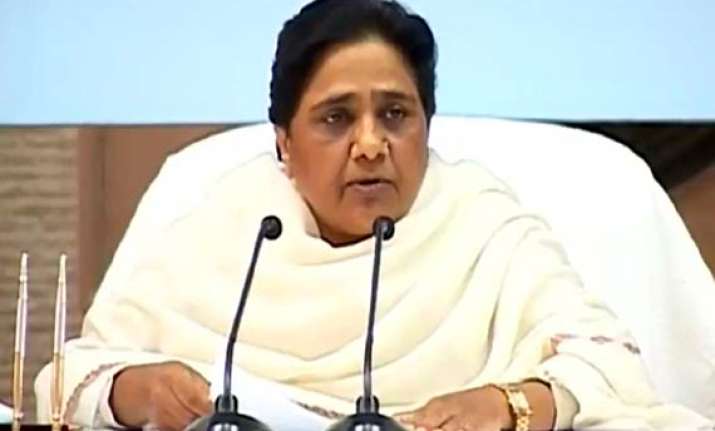 New Delhi, Nov 18: The Supreme Court today decided to hear on February 1 next year the plea of Uttar Pradesh Chief Minister Mayawati seeking quashing of criminal proceedings against her in a disproportionate assets case lodged by the CBI eight years ago.

A Bench of justices P Sathasivam and J Chelameshwar said it cannot hear the matter this year as it was preoccupied with other important cases.

"We will keep the matter for final disposal and hear it from February 1," the bench said after Mayawati's close aide and senior advocate S C Mishra pressed for urgent hearing of the plea by the BSP supremo, who is gearing up to face assembly elections early next year. 

CBI during the earlier hearings had said there was "ample evidence" to show she had amassed wealth disproportionate to her known sources of income.  Mayawati had filed a petition in May 2008 seeking quashing of criminal proceedings against her in the case alleging it was an act of political vendetta.

She claimed that she had received the money through donations from party workers.

CBI had questioned the assets of Mayawati saying that her declared assets of Rs one crore in 2003 had gone up to Rs 50 crore in 2007.

CBI in the last affidavit filed on September 13 had alleged that there was a "criminal nexus" between the Chief Minister and her relatives and the disproportionate assets case against her cannot be closed on the basis of conclusions arrived by the Income Tax department. 

The agency rejected Mayawati's stand that the DA case should come to an end after the income tax authorities had accepted her income tax assessments. 

The agency said "the investigation against the petitioner is based on cogent evidence available in the form of documentary and oral evidence which show that there is a criminal nexus between income of the relatives and the petitioner as well as between Mayawati and her donors and relatives."

Mayawati had on the basis of a clean chit given by the Income Tax Appellate Tribunal filed an application in the apex court seeking quashing of the case registered by CBI against her for owning various movable and immovable assets far exceeding her known sources of income. 
CBI had told the court that it would soon file the charge sheet against Mayawati before the CBI Judge in the Lucknow court and maintained the scope of criminal proceedings were different from civil proceedings including the immunity granted by the IT department.

The agency, however, said the orders of the IT Commissioner granting immunity would be duly taken into account in so far as they were applicable to the DA case against her while filing the final report before the CBI court.

"The evidence collected during the course of criminal investigation into the DA case is to be appreciated in a trial court and the matter cannot be foreclosed by relying on the findings of the income tax authorities," it said.