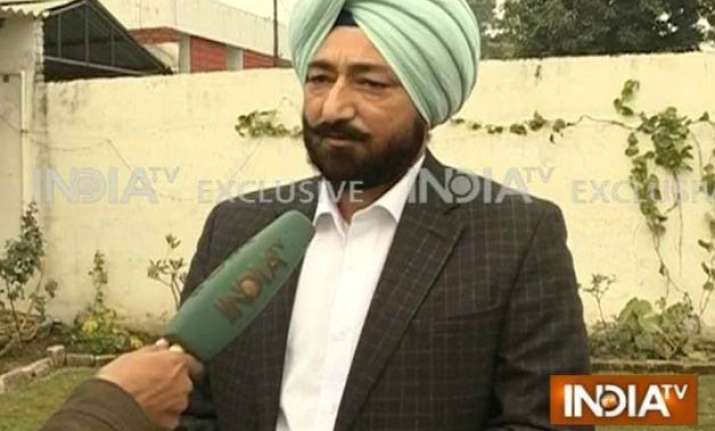 New Delhi: Senior official of the Punjab Police Salwinder Singh is in the dock ever since the terror attack on the Pathankot air base on the intervening night of January 1 and 2 that saw seven security forces being martyred and several others injured.
Salwinder had claimed that he, along with his cook Madan Lal and jeweller friend Rajesh Verma were returning from a shrine located near the border when the terrorists kidnapped them. It was Salwinder's SUV that the militants used to reach Pathankot.
Salwinder's claims have found few takers, initially because of his track record and more importantly because of his flip-flops on the details of events that transpired that night, barely hours before the militants launched a brazen attack on the Pathankot Air base.
Salwinder, who is in Delhi for questioning by the NIA, will now be subjected to a lie-detector test after a local court gave its approval. The test could happen as soon as tomorrow.
Whether Salwinder was directly involved in the terror attack directly or otherwise is still being investigated. However, sources tell India TV that details revealed during the investigation point to Salwinder's hand in facilitating drug trade on the Inida-Pakistan border, with Salwinder allegedly acting as a facilitator and a courier.
We bring you some crucial points that the investigations have revealed:
Visit to the border on December 31
Investigations have revealed that on December 31, Salwinder Singh went to collect money that he was to receive for allegedly facilitating the transfer of a drug consignment from Pakistan. The drug consignment from across the border had arrived in India 15 days ago.

Reports suggest that Salwinder used different spots and locations to receive messages from across the border. These 'messages' were actually in the form of face-to-face conversations with the drug smugglers. According to sources, Salwinder confessed during the NIA interrogations that on the night of December 31, he had visited the Panj Peer Dargah in Punjab – which he claimed to have visited before he was kidnapped by terrorists – to receive a similar message.
According to NIA sources, Salwinder visited three such border points on the night of December 31. It is being investigated whether militants that carried out the attack used this point to infiltrate the border. Investigators say Salwinder had also visited the same points a week ago too. NIA is said to have tracked the route used by the terrorists to reach Pathankot from Kolian. The route will be reconstructed on the basis of what Salwinder has divulged so far.
How drug consignments were received
NIA investigations have also revealed that Salwinder's role was allegedly that of a facilitator and a drug courier. According to reports, he was primarily involved in the entry and handing over of these consignments. Salwinder's cook Madan Lal used to accompany Singh for receiving the consignment.
Payments in gold and diamond jewellery
When it came to collecting the money in exchange of facilitating the consignments, Salwinder's jeweller friends accompanied him, the probe has revealed. This is because the payments for these drug consignments used to be allegedly made in gold, diamonds and other jewels. Salwinder's jeweller friends used to verify its authenticity of the jewels and keep it in their possession, reports said.  
Rajesh Verma, who accompanied him on the night of December 31, is one of the three jewellers said to be involved with Salwinder in this cartel. The other two have also been identified and will also be questioned, NIA sources have said. While one hails from Gurdaspur, the other lives in Pathankot.
Investigations have also revealed that Rajesh Verma and Salwinder only got to know each other two years ago when Salwinder was posted in Gurdaspur as SP.   
Local aides as sleeper cells
Disclosures in this entire racket have also revealed the role of his other aides. According to sources, two other locals were involved with him in this syndicate. They were allegedly involved in the safe parking of the drug consignment from across the border and operated like a sleeper cell. As per reports, they used to hide the consignment for a few days by storing it with them before it was delivered.
Ensuring safe passage
Reports suggest that Salwinder himself used to create a safe passage for the transfer of the consignment. Investigators suspect the involvement of several senior officials of Punjab police as well. Besides police officials, some members of the Border Security Force are also under the NIA scanner for their role.  
The Bangkok connection
Investigations have further revealed that Salwinder used to regularly travel to Bangkok. The NIA suspects that it was here that he used to receive a part of his payments for facilitating the entry and safe passage of such drug consignments from Pakistan.