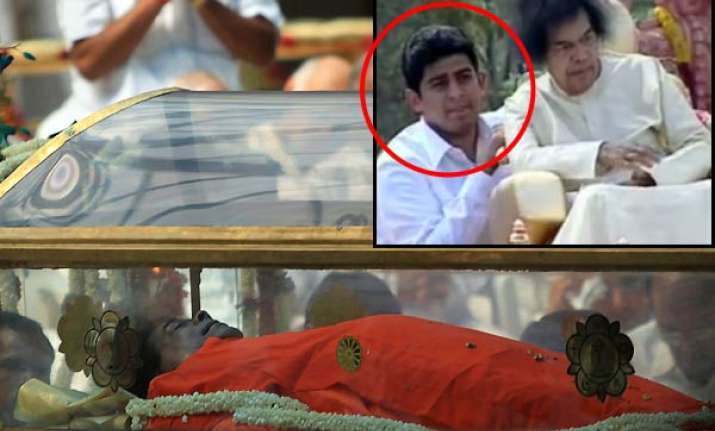 Puttaparthi, April 26 : The late Sathya Sai Baba's trusted aide Satyajit has been given police protection following intelligence inputs that he may be facing a threat to his life.Satyajit, a native of Tamil Nadu (some say, Karnataka), had been the Baba's main "caretaker" for many years.

He, however, had been facing a lot of allegations ever since the Baba was hospitalised on March 28. The main allegation was that Satyajit did not feed the Baba proper food and gave him lot of sedative drugs, resulting in deterioration of the latter's health, police sources said. 

Doctors who treated the Baba in the Satya Sai Institute of Higher Medical Sciences neither confirmed nor denied that sedative drugs were given to him prior to his admission in hospital following respiratory problems. 

Satyajit, along with the Satya Sai Central Trust secretary K Chakravarthi, is said to be enjoying the cheque signing power on behalf of the Trust and is seen as a most powerful man in the Ashram affairs. 

"There are some people within the Ashram as well as outside who are antagonistic to Satyajit. There is a possibility of someone causing harm to his life in the wake of the Baba's demise. As such he is being provided police protection," a senior police official said. 

Satyajit made only a brief appearance near the Baba's body last evening and remained mostly confined to his room in Prasanthi Nilayam where the Baba lived.

It is learnt that Satyajit has been advised to stay confined to Prasanthi Nilayam till the last rites of the Baba who died on Sunday after battling multi-organ failure. 

Satyajit received love and affection from Baba and was a close associate of him. Devotees of Baba say, Satyajit  got the entire special temple (in which Satya Sai Baba resided) under his control.
 
Satyajit joined as a student to serve Baba. In the beginning, he served as driver for Baba's vehicle . In 2005, when Baba suffered a thigh bone fracture, Satyajit served Baba right from helping in taking bath to all sundry duties.
 
He secretly called a cardiologist from Bangalore to treat Baba . Though some of the trust members objected to Satyajit's behaviour,  Baba used to support him when he was alive.