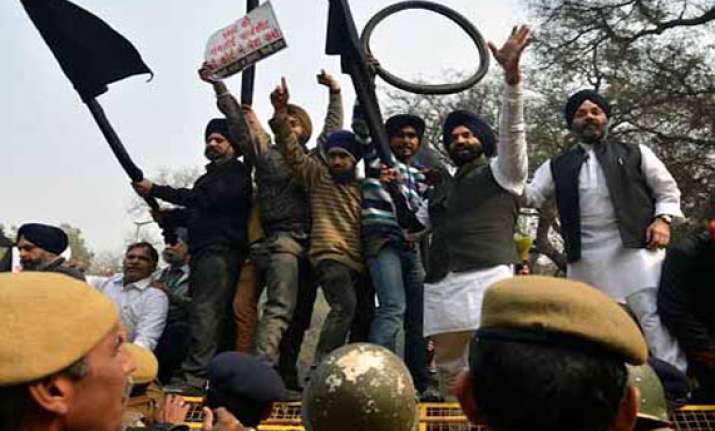 New Delhi: Members of the Sikh Gurudwara Management Committee led by Shiromani Akali Dal supporters today staged protest against Delhi Police for interrupting a religious gathering in Tilak Vihar area and detaining four volunteers.
DSGMC and SAD Delhi state president S Manjit Singh GK along with supporters protested at Tilak Nagar Police Station against Delhi Police's "wrong action" to stop Sri Akhand Path Sahib in between at Tilak Vihar area last night.  
Police took four devotees and volunteers in custody, DSGMC spokesperson Parminder Pal Singh said.  According to the police, Sikhs volunteers were holding the religious meeting on a land reportedly belonging to the Social Welfare Department.
After receiving a complaint a police team reached the spot early this morning and detained four persons, who were later released after completing formalities, police said.  
Meanwhile, traffic was disrupted due to the protest and Delhi Metro authorities closed down three metro stations on the Dwarka- Noida City Centre (Blue Line) route.  "Subhash Nagar and Tagore Garden metro station were closed at 2:50 PM in view of security scenario due to protest outside localities. Two entry gates of Tilak Nagar also remained closed," a DMRC spokesperson said.
However, Tagore Garden station reopened at 3.05 PM and the other two stations reopened at 6.47 PM, the spokesperson added.