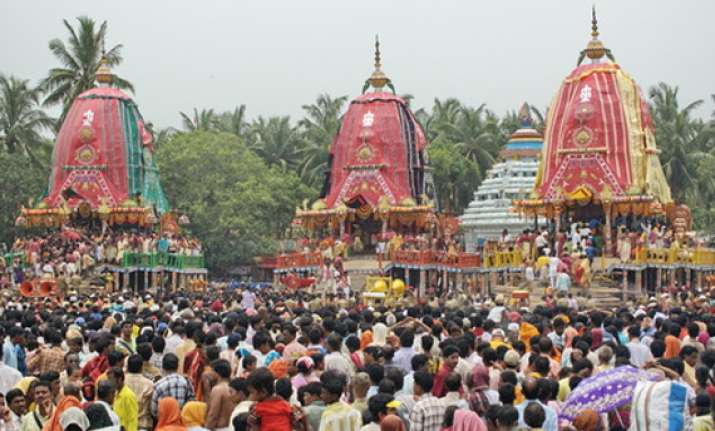 Puri, Jun 29 :
Lakhs of devotees from across the country and abroad descended on this pilgrim town today to witness 'Bahuda Yatra',the return car festival of Lord Jagannath accompanied by his elder brother and sister.  
Wrapping up the nine-day sojourn at their aunt's house, Lord Jagannath, elder brother Lord Balabhadra and their sister Devi Subhadra set off on their return journey to the 12th century shrine abode on the three colourfully decorated huge wooden chariots amidst tight security.  
A multi-layer security net was thrown over the seashore town with security forces deployed in large numbers in view of intelligence reports about a terrorist plan to strike during the annual festival, a senior police official said.
Special rituals were performed at the Gundicha temple amidst shouts of the ecstatic devotees 'Jai Jagannath' before the start of the return journey.
The three deities were taken to the chariots to the beating of gongs, cymbals and blowing of conch shells after an elaborate royal ritual known as 'Pahandi' was performed as devotees and sevayats jostled to touch them or have a closer look.
Lord Jagannath was ensconed on the largest of the chariots, 45-feet high, 16-wheeled 'Nandighosh'.  The 'Taladhwaja' chariot of Balabhadra has 14-wheels and is 44 feet high and 'Darpadalan' of Subhadra has 12 wheels and is 43 feet high.
The Gajapati King of Puri Divya Singha Deb arrived from his palace for the 'Chhera Pahanra' ritual.  He offered prayers to the deity and ritualistically swept the platforms with a golden broom and sprinkled flowers and fragrant water.
The giant chariots were pulled by devotees on the 'Bada danda', the grand avenue up to the Lion's gate of the Sri Jagannath temple where the deities will be stay till July 2.
The three deities will re-enter the shrine the following day to again adorn the 'Ratna Simhasana' and give darshan to their devotees till next car festival.
The deities would be decorated with 'suna besha' (golden attire) tomorrow on the chariots, which is expected to attract a large number of devotees