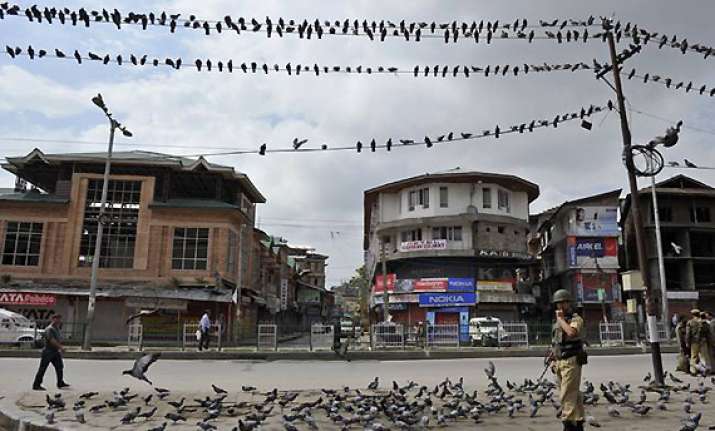 Srinagar, Jun 27: Life across Kashmir Valley remained disrupted for the third day today due to a strike called by separatists over gutting of the 200-year-old Dastageer Sahib shrine even as authorities imposed restrictions on movement of people in the old city. 
As a preventive measure to maintain law and order, Srinagar District Magistrate Baseer Ahmad Khan has ordered imposition of restrictions on movement of people and transport in six police station areas of the old city, officials said.  
The police station areas where curfew-like restrictions have been imposed include Khanyar, Maharaj Gunj, Rainawari, Nowhatta, Safakadal and Kralkhud.
While clashes erupted on Monday between protestors and police after the shrine was gutted in a fire, the Valley observed a shutdown yesterday on a call given by separatist groups.
The restrictions in the old city are likely to continue till Friday as Grand Mufti of Jammu and Kashmir Bashiruddin Ahmad has called for a march to Khanyar that day.  
Meanwhile, areas of Srinagar city, where no restrictions are in force, and some parts of the Valley witnessed a shutdown for the second day today.
Schools, colleges, offices, shops and other commercial establishments remained closed.
Public transport was off the roads across the Valley while few private vehicles could be seen on roads. Attendance in government offices was also thin.
The state government has ordered a probe by Divisional Commissioner, Kashmir, into the fire incident and also announced that the shrine will be reconstructed.
The old city area had witnessed violent protests on Monday after the blaze gutted the shrine and adjacent mosque.  More than 50 people, including a dozen policemen, were injured in the clashes.
Additional policemen and CRPF personnel have been deployed in the old city and other vulnerable areas of the city like Maisuma to maintain law and order, the sources said.