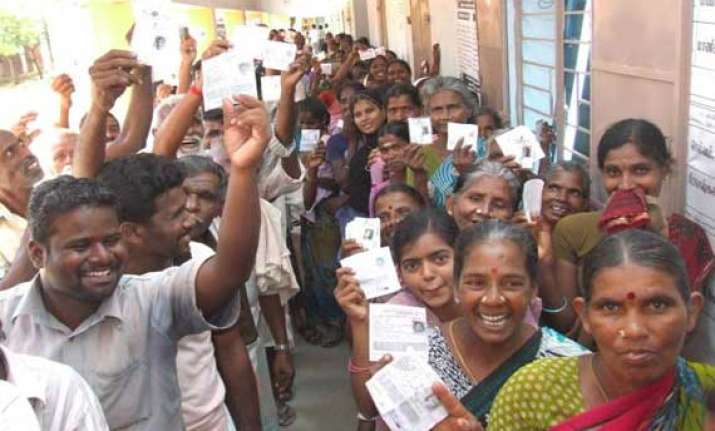 Chennai/Puducherry: In a record turnout, 73 per cent of the 5.50 crore electorate in Tamil Nadu cast their votes in 39 Lok Sabha constituencies in the single-phase voting today which passed off by and large peacefully.
The voting percentage of 73 per cent is marginally higher compared to 72.98 per cent polled in the 2009 elections.
The neighbouring union territory of Puducherry also witnessed a record turnout of 83 per cent of 8.85 lakh electorate casting their votes for the lone seat as against the 79.85 per cent in 2009 elections.
Minister of State in PMO V Narayanasamy is waging an herculean battle in a field of 30 candidates for his second successive win in Puducherry, amid challenge thrown by ruling AINRC and PMK.
The poll process which remained largely trouble-fee, however, was marred by a clash between AIADMK and DMK workers in Tenkasi over alleged attempt to influence voters by a Panchayat chief which left six persons injured.
In Madurai, three persons were injured when police made a lathicharge to disperse two groups of AIADMK and DMK men who clashed at a polling booth in Sikkandhar Chavadi locality.
The poll fortunes of 845 candidates, including DMK's A Raja (Nilgiris) and Dayanidhi Maran (Central Chennai), P Chidambaram's son Karti (Sivaganga), another Congress leader Mani Shankar Aiyar(Mayiladuthurai), BJP state president Pon Radhakrishnan and AAP leader and anti-nuclear activist SP Udhaya Kumar (both Kanyakumari) were sealed in the Electronic Voting Machines.
All the EVMs have been moved to respective strong rooms where those will be kept till May 16, the counting day.