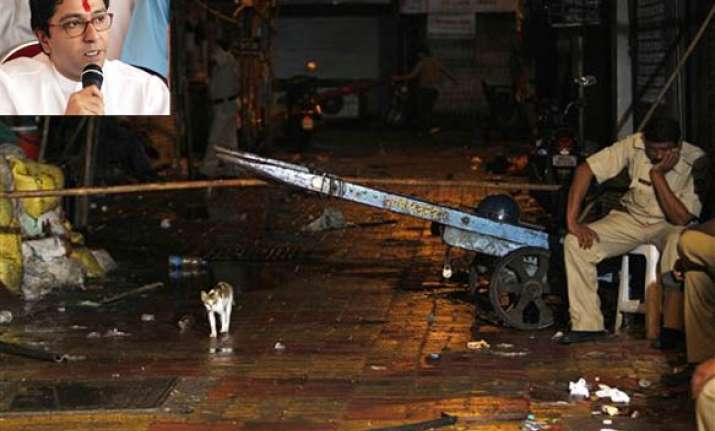 Mumbai, Jul 15: In the backdrop of the serial blasts that rocked Mumbai, Maharashtra Navnirman Sena (MNS) chief Raj Thackeray on Thursday blamed "hordes of migrants" coming to the city for spurt in crime rate in the state. 

"Maharashtra crime rate has increased in the last 10 years. Examine from where the people perpetrating the crimes come from," Raj told reporters here.

"In neighbouring Thane, the influx of migrants has been the highest in the country," the MNS chief said.

Every time we cannot blame police department or failure of intelligence as it is not possible to control the number of people due to migrants, Raj said.

"I trust the Mumbai Police but the influx is so much that there will be intelligence failure and such type of terror attacks would keep happening," he said.

"Is any crime possible without the help of local people? (terrorist) Kasab knows Taj hotel kitchen but you and me do not," Raj said.

Demanding that a combing operation be undertaken in Mumbai to flush out those staying illegally, the MNS chief said, "take help of military if needed".

He said that no convict involved in any terror attack has been "executed" even after court verdict.

In Lucknow, Uttar Pradesh Chief Minister Mayawati hit out at  Raj Thackeray  saying, it was really lamentable that he was making such irresponsible statements when terrorists were trying to accomplish their nefarious design  through acts like the Mumbai serial blasts.

"Raj Thackeray ought to realise that such irresponsible statements would only forge further divide in our society, and thereby help terrorists in fulfilling their ulterior objectives," Mayawati said  in a statement issued here.

The chief minister said it was high time that realisation dawned on Thackeray that Mumbai too owes some bit to the millions of migrants from Uttar Pradesh and Bihar who have also toiled to build the country's financial capital.

Uttar Pradesh remains the biggest market for all that Mumbai produces, she added.

"In any case, the Indian constitution entitles every citizen as much right to live or work in any part of the country," Mayawati said.