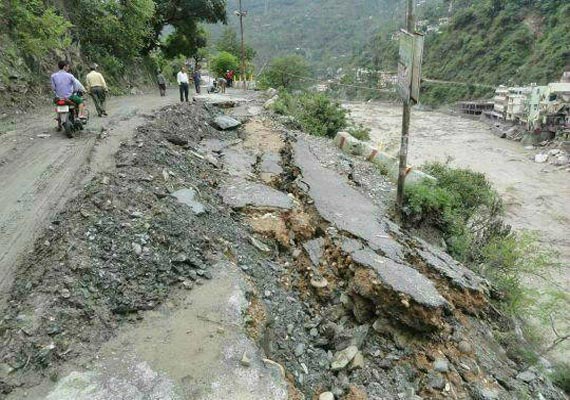 Dehradun, July 27: Rains lashed some parts of Uttarakhand yesterday, triggering landslides and causing road blockades, but relief operations by air and land were on in the flood-hit state as the weather remained largely clear.
Officials in the Uttarakhand Disaster Management and Mitigation Centre said traffic was disrupted on the Rishikesh-Gangotri highway near Dharasu-Nalupani in Uttarkashi district due to landslides.
The Rishikesh-Badrinath highway was also blocked near Kaleshwar and efforts are on to reopen it for traffic, they said.
In New Delhi, a top official in the Ministry of Earth Sciences said that melting of glaciers and heavy monsoon rains triggered the overflowing of rivers, causing the state's worst natural disaster.
"The floods were not only due to rains but also because of melting of snow. Rainfall came almost two weeks early in the state. During that period, winter snow was already there.
"When the rains came, snow melted and flowed down along with the rains which increased the volume of water in rivers significantly," the Ministry Secretary Shailesh Nayak said.
Meanwhile. the state unit of BJP accused the Uttarakhand government of having failed to adequately deal with last month's calamity, saying that had the administration reacted promptly, many more lives could have been saved.
A three-member BJP panel led by
Uma Bharti
to assess the damage caused by the disaster, said a "major failure" of the state government was the absence of any alerts even after the first three days of heavy rainfall before June 15-16.