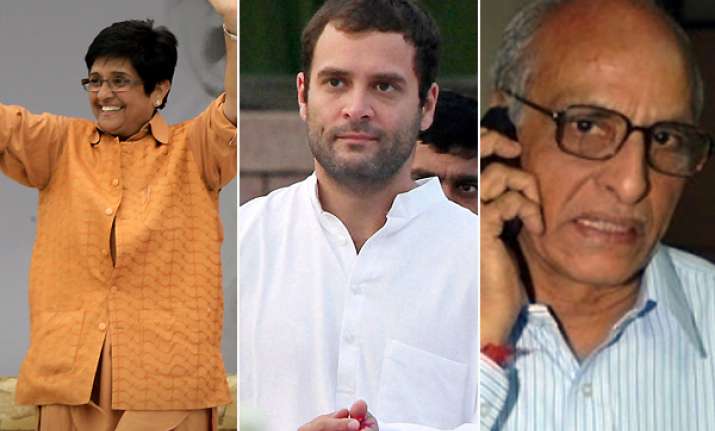 New Delhi, Aug 26: Team Anna member Kiran Bedi today said that Rahul Gandhi was trying to climb Mt Everest, without climbing up the hills first.

She was reacting to Rahul's speech in Lok Sabha in which he had sought to take the debate further by suggesting an Election Commission type status to the Lokpal.

People of India only want to climb the hills, meaning that they want corruption at lower levels to be eradicated first, said Bedi.

Since Day One, Anna Hazare has been speaking about the problems of 'aam aadmi' facing day-to-day corruption and Rahul Gandhi should address that first, and that is possible only through Jan Lokpal, said Bedi.

Meanwhile, former Election Commission secretary K J Rao today said, it would require a Constitutional Amendment to make Lokpal a statutory body. It is a long-drawn process and it will take time, said Rao.

Rao said, a Lokpal getting an EC-type status would be totally independent on Parliament and government.

The former EC secretary, famous for his daring actions against EC code violators during elections, said, criminalization of politics and money power in politics have led to large-scale political corruption, which should be addressed first.

On state funding of political parties as suggested by Rahul Gandhi, Rao said, it was earlier proposed by the Indrajit Gupta Committee, but it was difficult to implement.

Rao also called for including NGOs under the ambit of Lokpal, saying that there had been too many charges of corruption against many NGOs.

Meanwhile, Sri Sri Ravi Shankar said, it was former Chief Election Commissioner T N Seshan who had suggested two days ago that the proposed Lokpal should be made a statutory body like the Election Commission. But the immediate worry was to break Anna Hazare's fast which has already entered its eleventh day.