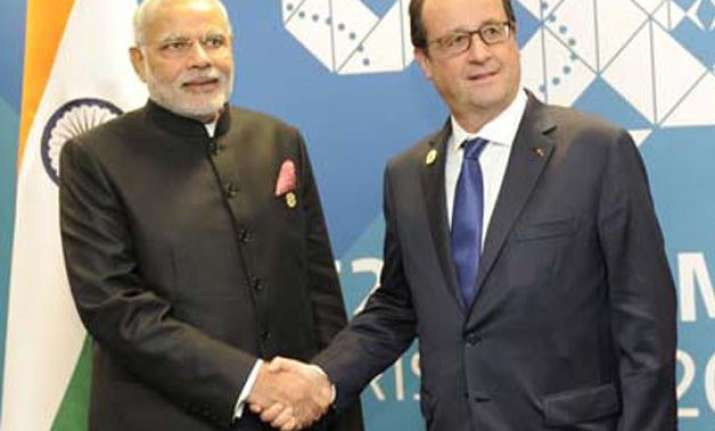 Paris/New Delhi: The long-pending Rafale fighter deal will be discussed during Prime Minister Narendra Modi's visit to Paris later this week, French President Francois Hollande today said but made it clear that there will be "no announcement" before the Indian leader's trip.  
"We will have discussions on the subject that you mentioned but there will be no announcement before (the visit)," Hollande said in response to a question at a press conference at the Elysee Palace alongside his Tunisian counterpart Beji Caid Essebsi today.
"I do not also want the visit of Indian Prime Minister to be seen in relation to a contract, even if we work on it," he added.
Modi will begin his three-day visit to France from Thursday as part of his three-nation tour that will also include Germany and Canada.
Hollande said he wants to discuss with Modi ways to further intensify the bilateral relationship and exchanges. "I do not mean that we can summarize it simply to the question of the Rafale," he said, according to French media reports.  The multi-billion dollar deal for supply of 126 Rafale fighter planes to India has been stuck due to differences over cost.
In New Delhi, French Ambassador Francois Richier, while addressing a press conference on Modi's visit, was evasive to questions over the multi-billion dollar deal which has been held up for long.
Richier said French companies, including those in the field of defence, are keen to participate in the 'Make in India' programme and the fate of Rafale deal will be a key element in this.
Rafale was selected by India from among five bidders in 2012 since it was the lowest bidder.
Indian government officials say that while the deal was initially for about Rs 42,000 crore, French are seeking a higher price now. This, the Indian officials say, has put the price at a "little more than double the cost".  India is insisting that Dassault Aviation cannot renege on the Request for Proposal (RFP) clauses, which it had initially agreed to.
Even at political level, India has categorically told the French side that it must stick to the RFP, in which Dassault was the lowest bidder and hence was selected for the contract.  "The ball is in France's court," an Indian official had said sometime back.