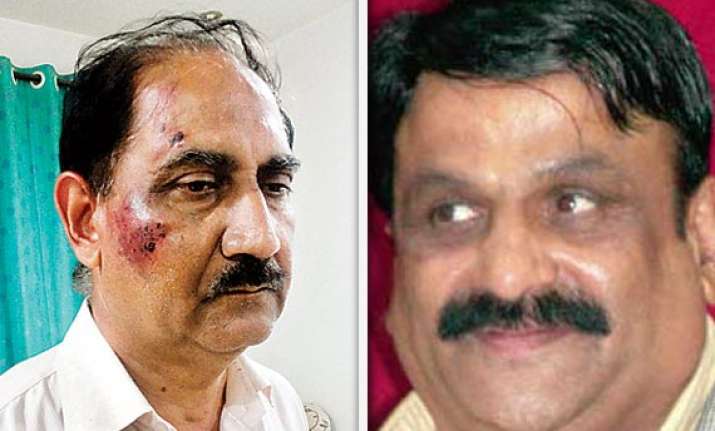 Pune, July 13: In a disturbing incident, Vinayak Nimhan, a local Congress MLA beat up a retired Indian Air Force Wing Commander Arun Deshmukh, but the police, instead of registering an FIR, filed a non-cognizable offence report.
Retired Wing Commander Arun Deshmukh, who served the nation for 23 years in the Indian Air Force, had bought a 4500 sq.ft. land for Rs 65 lakhs in 2005 in the name of his wife Anjali Deshmukh. Several other individuals also bought land in the vicinity, and among those included Congress MLA Vinayak Nimhan.
As land prices skyrocketted in the area, the MLA and his councillor son Sunny Nimhan eyed the plots of others, and attempted to grab them one by one, local residents alleged.  
Last year, the MLA and his son allegedly beat up Vinay Kunjeer, a man owing a neighbouring plot, and on July 7, the MLA beat up the retired Wing Commander, it is alleged.
In both the cases, the local police, instead for registering an FIR, filed non-cognizable complaints. DCP Zone 2, Pune Police, Shahji Umap says, it was not a serious offence of beating as such, which required filing of an FIR.
The MLA, local residents alleged, has been putting up boards on other people's plots, posting security guards to beat up neighbours and putting up boundary wall in front of construction to stop movement.
Maharashtra chief minister Prithviraj Chavan has said he has sought details about the MLA. The MLA Vinayak Nimhan, from Shivajinagar constituency, challenged he would quit politics if the allegations were proved.  
"Whenever there is talk about cabinet posts being offered to me, my political opponents use people like the retired IAF officer to level charges against me", he claimed.