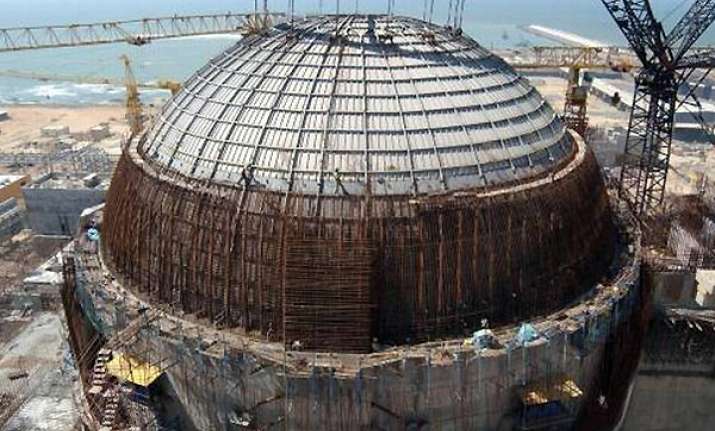 Tirunelveli (TN), Oct 13: Stepping up their protest against the Koodankulam nuclear power plant, agitators today staged a roadblock in front of the plant site, preventing entry of scientists and workers into the complex.

The protest hitherto confined to fast took a new turn even as Tamil Nadu Chief Minister Jayalalithaa assured the local population that their sentiments would be respected.

"As far as Koodankulam Nuclear Power Project is concerned, Tamil Nadu government will certainly act respecting the local peoples' sentiments. I will be one among you in the issue," she told a campaign rally ahead of next week's civic polls.

Jayalalithaa's remarks during her speech at neighbouring Tuticorin came a day after Prime Minister Manmohan Singh wrote to her cautioning that the state's development would be hit in the absence of power from the Indo-Russian project.

Singh's second missive on the issue to Jayalalithaa in a week came days after the anti-project activists hardened their stand, insisting on scrapping the project and launching the second phase of indefinite fast, which entered the fifth day today.

Earlier, the prime minister had written to Jayalalithaa after a multi-party delegation, including representatives of the protesters, met him in Delhi on October 7.

Speaking after the more than three-hour long road blockade, Pushparayon, one of the convenors of the agitation, said the stir would be intensified further if the Central and state governments did not take steps to scrap the project.

He told PTI that the anti-nuclear energy movement was firm in opposing the plant and Singh's letter had irked them.  "We are worried about the impact of the plant on the people and the environment," he said.

Slamming the prime minister's letter, the protesters had yesterday asked Jayalalithaa to reject his request for her continued cooperation for implementation of the project.

Police said about 200 people blocked the traffic on the East Coast Road in front of Koodankulam. Cases would be registered against them for blocking traffic and preventing officials from discharging their duties, they said.

Protests against the project have gathered momentum since August after officials said the first of the 2x1000 MWe reactors would be commissioned in December.

A 12-day-old fast was called off on September 23 after Jayalalithaa assured that a Cabinet resolution would be adopted seeking stalling of the work and arranging for a meeting with the prime minister.