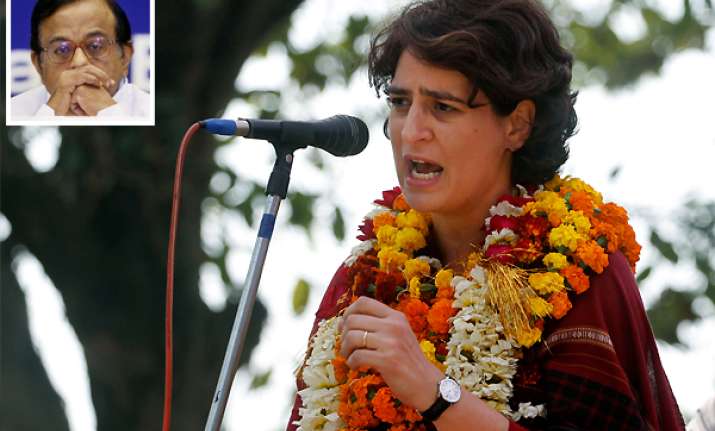 Rae Bareli/Chennai, Feb 6: Congress president Sonia Gandhi's daughter Priyanka Gandhi on Sunday came out in support of Home Minister P Chidambaram in the opposition attack against him in 2G spectrum row, saying she was sad he has to waste his time in responding to the "rants" of some people.

Priyanka's defence of Chidambaram came even as BJP renewed its attack telling the Congress it is too early for the party to think that the former Finance Minister has been vindicated by yesterday's Delhi court verdict in the 2G allocation case.

"I feel as the Home Minister he has an onerous and huge responsibility towards the people of this country. I feel sad when he has to waste his time responding to the rants of people who are not concerned about the kind of issues he has to deal with...," she told reporters in Rae Bareli, taking a break from her campaign in poll-bound Uttar Pradesh.

Priyanka maintained that she feels in a similar way with regard to the attacks on the UPA government.

"I feel sad on how much time is wasted on not allowing the government to function," she said, adding "this takes away precious time."

Chidambaram got a huge relief yesterday when a Delhi court threw out a plea to make him an accused in the 2G case.

"...the the Finance Minister(Chidambaram) was equally in the decision making process. Therefore, we still have the question which I am sure will come to the court at some time to anwser. So it is a bit too early for the Congress to think that the court verdict has vindicated him," BJP spokesperson Nirmala Sitharaman said in Chennai.

CPI(M) sought a probe in alleged "dereliction" of duty by Chidambaram by not taking steps to prevent the telecom scam as the then Finance Minister.

"It's severe dereliction of duty. The then Finance Minister was supposed to share the responsibility of fixing the price (of spectrum licences). How did he discharge that responsibility is not in public domain. That needs to be probed," CPI(M) leader Nilotpal Basu said in New Delhi.

Subramaniam Swamy, whose petition petition against Chidambaram was dismissed, said, "Act of criminality will not come at trial stage. If (former Telecom Minister and key accused) A Raja is criminally liable, why Chidambaram's role cannot be probed? Conviction proceedings cannot be brought at trial stage. The judge acted on wrong basis. I will move the Supreme Court soon," Swamy said in Mumbai.