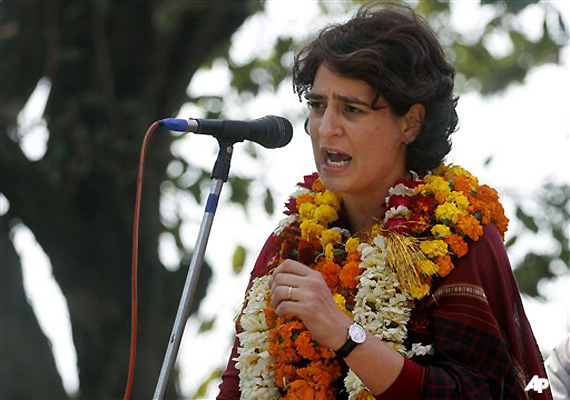 Rae Bareli, Feb 10: On the campaign trail canvassing for her party nominees, star campaigner Priyanka Gandhi today went ahead and invited a Samajwadi party candidate to join the Congress.

During her road show this morning, Priyanka came face to face with SP nominee from Sadar seat R P Yadav, who on her inquiry introduced himself as a farmer's son and asked her to bless him.

"She told me aap wahan kya pade ho, Congress mein aa jao... apka samman hoga" (she asked me to come to the Congress, I will be honoured), Yadav told PTI.

Yadav said that he told her that he was Mulayam's soldier and that he was going to win the seat.

Priyanka held road shows, meetings and talked to the electorate of Harchandpur segment asking about their well being and seeking their support.

Walking down a long stretch, she also mingled with the crowd gathered outside local the Samajwadi Party office.

Incidentally, Priyanka's children Rehan and Miraya who had yesterday hogged the limelight were not seen at the road show.