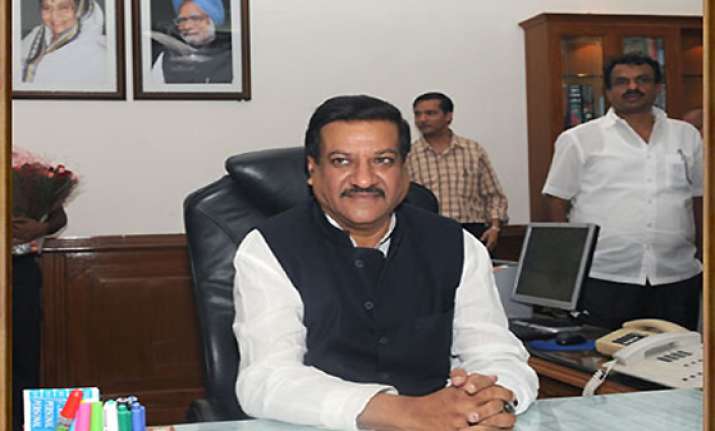 New Delhi, Apr 13:
In a wake up call for Maharashtra Chief Minister Prithviraj Chavan, the Congress high command has told him to quickly get his act together or else it would be forced to look for a replacement.
"Chief Minister's post is not like working in the Prime Minister's Office where there is no need to take decisions. In states,things just do not happen unless you take decisions", a senior Congress leader, who declined to be identified, said.
The remarks are significant as Chavan was Minister of state in the PMO before being made the Chief Minister in November 2010 after the exit of Ashok Chavan in the wake of the Adarsh Housing Scam.
The leader said that right now high command was slightly encountering TINA (There Is No Alternative) factor but has got time ahead to look for Chavan's replacement if he failed to deliver in the near future.
A Union Minister, who wanted to be anonymous, said that a search for Chavan's successor has already begun discreetly and the leadership would take a view in the next two-three months depending upon the Chief Minister's work by then.
"Only honesty will not do. We need competence too. Decisions have to be taken and decisions should also be seen to be taken", the Minister said in an obvious reference to Chavan's clean image but who takes time in taking decisions.
A section in the Congress feels that Chavan cannot lead the party in the Lok Sabha and Assembly elections in the state scheduled for 2014.
The signal to Chavan to 'get your act together' has come at a time when Congress President Sonia Gandhi is believed to be increasingly concerned about the state of affairs in Maharashtra and has been seeking views from state leaders on how to check the slide.
As a leader put it, Chavan was sent to Maharashtra as the Chief Minister as an "experiment", but it has not succeeded so far.
AICC leaders have already made it known that they are on the lookout for a new PCC President for Maharashtra in place of Manikrao Thakre.
Early this week, Union Minister of State Milind Deora had lamented the slow pace of decision-making in the state and delays in key projects in Mumbai, while acknowledging the Chief Minister's corruption-free governance.
"Mumbai's Aquarium & Zoo revamp further delayed. No progress on Girni Kamgar issue & Sewri-Nhava Sea Link. Severe decision deficit in Maha," Deora, a two-term MP from South Mumbai, had tweeted.
Deora's action had set off a handful of retweets and responses. However, he had acknowleged Chavan's clean image in response to one post, saying: "I too believe in his intent and sincerity."
Congress had last month rejected suggestions that the Chief Minister should quit in the wake of the party's debacle in the prestigious Mumbai civic polls.
Chavan had sought to turn the Mumbai election as a fight between the UPA and the NDA. He had also taken a lead role in ensuring a Congress-NCP tie up even after demands within party to go it alone in the civic polls.