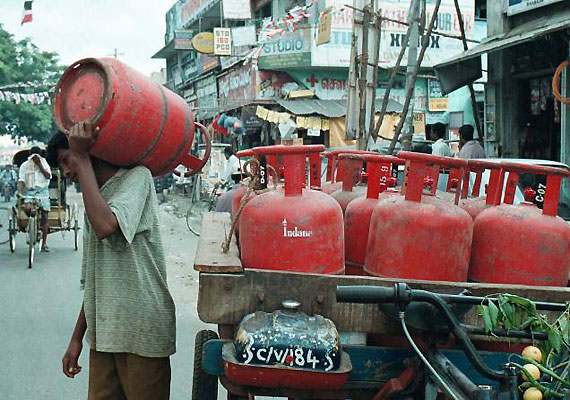 New Delhi, Oct 3: State-owned oil companies have hiked price of non-subsidized cooking gas (LPG) by Rs 127 per cylinder to Rs 883.5 on account of increase in international oil prices. 
Last month, the government had decided to restrict supply of subsidized domestic LPG cylinders to six per households in a year. Any requirement over and above this will have to be bought at market rate, which is almost double the subsidized price of Rs 399 for a 14.2-kg cylinder in Delhi.  
"The retail selling price of the 14.2-kg non-subsidized domestic LPG cylinder at Delhi has been increased by Rs 127 per cylinder with effect from October 1," Indian Oil Corporation, the nation's largest fuel retailer, said.  
IOC director (marketing) M Nene said any decrease in the price of LPG in the international market would similarly be passed on to consumers by way of reduction in the prices of non-subsidized LPG cylinders.  
"There will, however, be no restrictions on the number of non-subsidized cylinders over and above the six capped subsidized cylinders," IOC said.  
While subsidized cylinders will continue to be available at Rs 399 per cylinder (in Delhi), the market rate of non-subsidized LPG cylinders will be notified on a monthly basis by fuel retailers.  
The government has granted exemption from customs and excise duty on non-subsidized LPG cylinders only for domestic consumption to reduce the price burden on the common man, Nene said.  
The price of commercial 14.2-kg LPG cylinder in Delhi will be Rs 1,062, while that of a 19-kg bottle would be Rs 1,536.5.