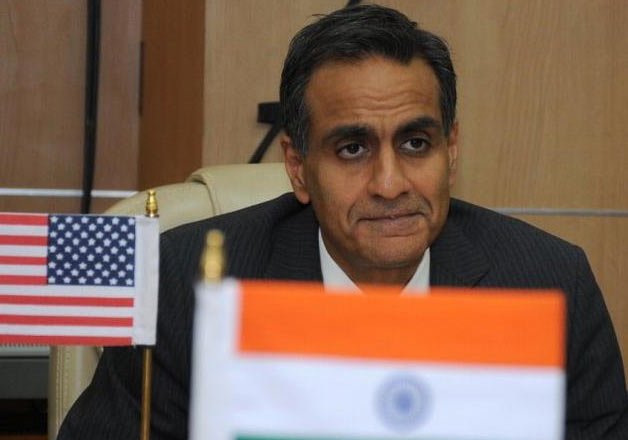 New Delhi/Washington: Coming down heavily on Pakistan and its 'terror sponsoring' network, US Ambassador Richard Verma said that the pressure on Islamabad to crack down on terrorism has to be kept up and the US remains strongly engaged with India to tackle the menace which is affecting regional peace.
The envoy said India's engagement with Pakistan was important and that US President Barack Obama was appreciative of PM Narendra Modi's outreach in Lahore last month.
"We have to keep the pressure up, keep the leverage up work with moderate forces, work with Prime Minister Sharif and that's exactly the US President has done, secretary (John) Kerry has done and we will continue to do it," he said yesterday.
Verma also noted that Obama had appreciated decisions by Modi and Sharif to stick to talks despite the Pathankot terror attack.
On reports about the US negotiating a civil nuclear deal with Pakistan similar to the one it had with India, Verma categorically said no such proposal was on the table.
Describing terrorist safe havens in Pakistan, which is home to the Taliban and the Haqqani network, as a major challenge, a top US general nominated to be the commander of NATO forces in Afghanistan said it is difficult to destroy enemy having sanctuaries like this.
"When an enemy enjoys sanctuary like that, it's very difficult to defeat them," General John "Mick" Nicholson, who has been nominated by the Pentagon as Commander of US and NATO forces in Afghanistan, told members of the Senate Armed Services Committee, during confirmation hearing.
Nicholson said he views the terrorist safe havens inside Pakistan as a serious problem.
"This (terrorist safe havens) has been one of the principal challenges. It's a sanctuary that our enemies, in particular the Haqqani Network, have enjoyed inside Pakistan," he said responding to a question from Senator John McCain, Chairman of the Senate Committee.
Critical of the Af-Pak policy of the Obama Administration, McCain also demanded an immediately halt to US troop withdrawals and eliminate any target date for withdrawal.
Responding to the question, Nicholson said it is difficult to defeat the Taliban and Haqqani network when they enjoy terrorist safe haven, and as such, it is important to "enlist" Pakistan.
"In this case, Pakistan, to go after those sanctuaries, and then the other important piece is to build up the defence capacity of the Afghans so that they can keep that level of violence down to a manageable level," the general said.
Earlier, in a written response to questions, Nicholson asked Pakistan to take persistent action against the Taliban, particularly the Haqqani Network.
"Pakistan's pressure on the Taliban combined with its support to the reconciliation process are mutually reinforcing," he added.
Haqqani network, which is linked to al-Qaeda has also been blamed for several deadly attacks against Western and Indian interests in Afghanistan, including the 2008 bombing of the Indian mission in Kabul.
With PTI Inputs