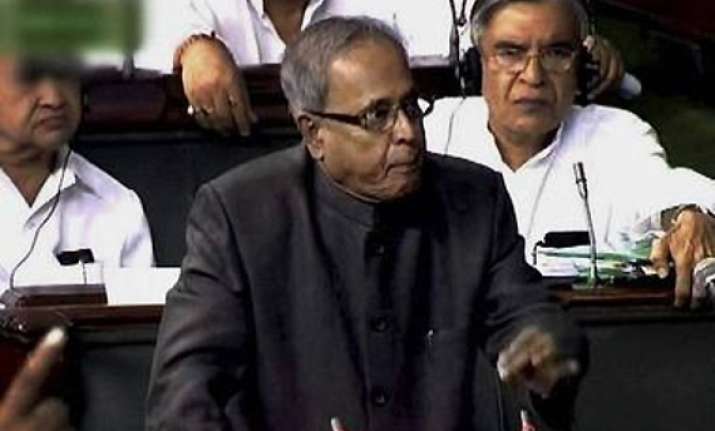 New Delhi, Dec 14: Rejecting Opposition demands, government today refused to make public information received from foreign countries with regard to Indian account holders but expressed readiness to issue an elaborate document on the problem.

Finance Minister Pranab Mukherjee told the Lok Sabha that revealing the information received from other countries would violate the understanding with a sovereign government and could hurt the Indian businesses as some of them could be genuine investors abroad.

Mukherjee said no Member of Parliament figures in the list of account holders abroad that he had received.

He was replying to a debate on Adjournment Motion on Blackmoney moved by BJP leader L K Advani which was later defeated by voice vote. Samajwadi Party staged a walkout.  Mukherjee said the government has received 36,000 pieces of information.

"If I publish it, same country will say you violated the Agreement and we will not share information in future...We will dry up our source of information," the Minister argued.

Rejecting the Opposition charge of "inaction" or "lagging behind", he said the government would prefer to go after those having illegal accounts abroad rather than publicising details as the account holders could even withdraw money.

"Should I publicise or go and seize it... How is intelligence collected? There is an element of surprise," he said.

"I have to ascertain (details)," Mukherjee said, adding "some of them may be genuine account holders who have got the permission of RBI. They may be investors."

He said Indian investors have expanded their operations abroad and publishing names could harm their businesses.

"Shall I publish names, give names?.. We will get publicity," the Finance Minister said, adding "it will have an impact on industry."

During his 45-minute reply, he took on the Opposition, particularly Advani, for speculating on the size of blackmoney and expressed readiness to bring a White Paper on it.

"I will bring White Paper. I will bring all information," he said, adding three organisations - NIPFP, NIFM and NCAER - have been mandated to make independent assessments of the quantum of blackmoney in the country.

Mukherjee said there is no conflict of interest between the objective of the Opposition and the government. "Why can't we work together. I will not protect any blackmoney holder, my party will not protect any blackmoney holder," he said.

The senior Congress leader slammed the Opposition for pressing for Adjournment Motion on the issue and disrupting Parliament for the same.

"What urgency has it got? This issue has been there since 1948," he said, attacking the Opposition for linking the issue with the adjournment motion and not allowing the House to function.

Mukherjee said at several meetings of the G-20, the Prime Minister had strongly pleaded for automatic exchange of information between countries on illegal funds stashed abroad.

Mukherjee said India has been insisting in the world fora that it should get data about illegal money and realise this money from the assets located abroad.

Referring to the G-20, he said if these countries voluntarily agreed to make these commitments, then other nations would follow.

Noting that Switzerland had earlier "doggedly refused to share bank information" with any country, the Minister said, "No country of the world, not even the USA, not even France, nor UK, got information from Switzerland through treaties retrospectively. They got it only prospectively."

Regarding the double taxation agreement with that country, he said India would get information with effect from April this year.

Explaining why it would not get it from an earlier period, Mukherjee said the Swiss government said they had an elaborate process of ratification and "we are not sure whether it will be completed within one year."

"We will get information from April, 2011. Whatever information we get, we will act on it," Mukherjee said.

In response to queries by Advani, he said the government and its departments had prevented transfer of Rs 66,000 crore to countries abroad through international financial operations.

On opposition demands that the illegal money be brought back from foreign banks and used for development, he said, "We shall have to find out how to prevent, how to bring back.  Somebody says make it a national asset.

"Money is located in Swiss banks. How can we bring it back? Do we send forces? These things can be done only through international agreements," he said.

Stating that he had met his French counterpart twice in the last few years, Mukherjee said the French minister insisted that India cannot make public the information given by it on legal grounds and on the basis of the double taxation treaty.

"You referred to the Swiss Restoration Act and asked what steps the government has taken. This law was passed only in early 2011," the Finance Minister told Advani.

He also castigated the senior BJP leader for quoting from a Supreme Court order on blackmoney saying the apex court was yet to pass final verdict on the issue relating to it.

"The Former Deputy Prime Minister referred to a judgement.  The judgement is not yet complete. Our department has challenged it. ...The judicial process is incomplete and we are discussing it. I would have ignored if anybody else had said it. But it has come from former deputy prime minister."

Advani later replied that he was aware that the final verdict in the case was still pending and had quoted only one order which was also referred to by Congress MP Manish Tewari.

Replying to Mukherjee's intervention, Advani said he was not satisfied with the Minister's reply and wanted to know details about the Hassan Ali case, saying, "People should be informed about what is really the source of strength for (Pune-based businessman) Ali. It is a mysterious case."

He accused the government of not showing courage to unearth information about those involved in the menace and other tax evaders.

Among those who participated in the almost five-hour long debate were SP leader Mulayam Singh Yadav, BJP leader and former Finance Minister Yashwant Sinha, CPI(M) leader Basudeb Acharia, JD(U) chief Sharad Yadav, RJD leader Lalu Prasad, Shashi Tharoor (Cong) and Dara Singh Chauhan (BSP).

Apparently dissatisfied with Mukherjee's reply, SP members staged a walkout.