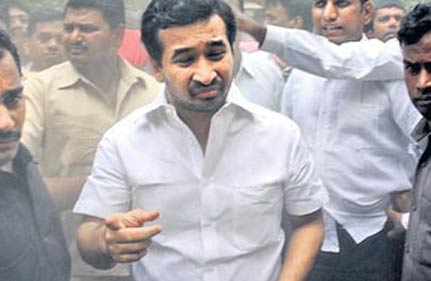 Mumbai, Nov 19: The Mumbai Crime Branch today gave a clean chit to Maharashtra Industry Minister Narayan Rane's son Nitesh in a case of attempt to murder, saying there was no evidence to arrest him.
The case was filed on a complaint by Shamim Shaikh, an office bearer of NGO Swabhiman Sanghatna floated by Nitesh. Shaikh had alleged that Nitesh fired at him.
Inspector Sanjay Satardekar of the Crime Branch filed an affidavit in the Bombay High Court in reply to a petition by Shaikh alias Chintu, stating "no prima facie case is made out" to arrest the accused (Nitesh Rane).
"No witness has stated that such an incident of firing occurred on the specified date," the affidavit said, referring to Shaikh's allegations that on September 23, when he went to Nitesh's office at suburban Khar, he was angry for some reason and as soon as he approached him, Nitesh fired at him.
Thereafter, Shaikh alleged, he was assaulted by two persons from Nitesh's office, and some of his bodyguards also chased him in a vehicle and threatened to kill him.
Satardekar, however, stated that the police had recorded statements of nearly 25 witnesses, some of whom had been interviewed by the Crime Branch, but none of them have supported the complainant claim that Nitesh fired at him.
Medical evidence suggested that injuries suffered by the complainant on his face were less likely to be caused due to firing of a bullet, Satardekar said.
He cited lack of forensic evidence and absence of any blood stains or marks at Nitesh's office, where the incident allegedly took place, to support his claim.
A panel of four doctors from government-run J J Hospital, which examined the complainant and available medical evidence, had said that injuries were less likely caused by a projectile discharge from a firearm. The panel also did not notice any evidence of bullet or metallic fragments as is generally found around bullet injuries, the affidavit said.
Shaikh had prayed to the court to direct the police to file an FIR on the basis of his complaint apprehending that police were likely to suppress material facts in view of Narayan Rane's political clout. PTI