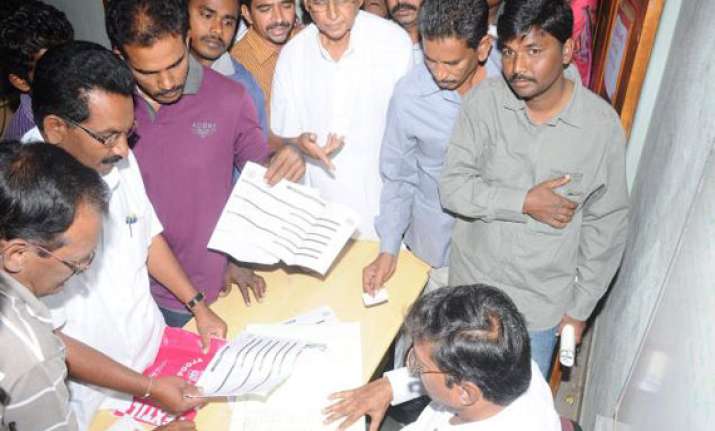 New Delhi, Dec 14:  Prime Minister's Office has asked ministries to take up implementation of direct cash transfer scheme on a "war footing" before the launch of the programme on January 1. It has also asked them to organise camps to speed up enrolment under Aadhaar for the purpose.
Primary activity of all the ministries implementing schemes in the coming weeks will be to complete enrolment of Aadhaar for all beneficiaries.They also have to ensure the beneficiaries have bank accounts in which Aadhaar numbers will also be mentioned, besides compilation of beneficiary databases.
"This has to be addressed on a war footing. The best approach may be a Camp approach," the PMO said in a statement.
Centre plans to provide direct cash transfers of benefits in 34 schemes in the selected 51 districts.
Also, Planning Commission has been asked to finalise dates for a one-day meeting of the Collectors of the concerned districts (excluding Gujarat and Himachal Pradesh) between December 10-15.
"Collectors will need to be given clear instructions on how to do this when they come for the meeting next week. Planning Commission will coordinate the necessary preparations for this," the PMO said.
Following the directions of the National Committee on Direct Cash Transfers chaired by the Prime Minister last month, the Executive Committee held a meeting for follow-up action on Direct Cash Transfers.
The PMO further said banks would also be authorised to be Registrars for Aadhaar numbers and will be enabled to enroll beneficiaries for Aadhaar at the locations where camps are to be held and otherwise as well.
All implementing ministries will launch publicity, information and instruction campaigns in the 43 districts immediately and in the 8 districts of Himachal Pradesh and Gujarat after December 20, according to the PMO.
Planning Commission will organise a video conference with Chief Secretaries/Finance Secretaries of the participating States to assess preparedness for commencing the rollout of the scheme. All members of the Executive Committee will be informed and would be encouraged to participate personally in the video conference, the PMO added.
It futher said standardised formats for the basic data to be collected for entry of Aadhaar numbers and Bank account details will be finalised by Department of Financial Services (DoFS). This will be done in consultation with UIDAI, banks and implementing Ministries and sent to Planning Commission for circulation to all concerned.
The format will contain the minimum essential data that will be needed for effecting Aadhaar—enabled direct cash transfers, it added.
"Department of Expenditure will work out, in consultation with DoFS, UIDAI, Planning Commission and other implementing Ministries, the process for fund flows and any changes that need to be made to current instructions on Utilisation Certificates, etc. so that all these meet government accounting and reporting requirements," PMO said.
The PMO further said that for centrally sponsored schemes, ministries will continue to transfer funds through states as at present. "For Central Sector schemes, the direct cash transfers will be directly to beneficiary from GoI Ministries," it said.
For schemes where the beneficiary is a minor, PMO said there would be a joint bank account, preferably with the mother. Under it, the Aadhaar of the child would be used for beneficiary identification purposes and mother's Aadhaar would be needed for operating the bank account.
Department of Financial Services will look into the issue of Service Charges by banks on individual transactions, limits on balances in no—frills accounts, definition of inoperative account and other related matters impacting direct cash transfers, the PMO said.
Matters relating to schemes of the Ministry of Rural Development will be addressed in a separate meeting, it said.
Secretaries of implementing ministries may consider visits to a neighbouring district to familiarise themselves with ground realities and the processes that will be needed for rollout to be effective, the statement added.
"Department of Financial Services, UIDAI, and individual Ministries will have to ensure availability of hardware for enabling direct cash transfers," the PMO added.