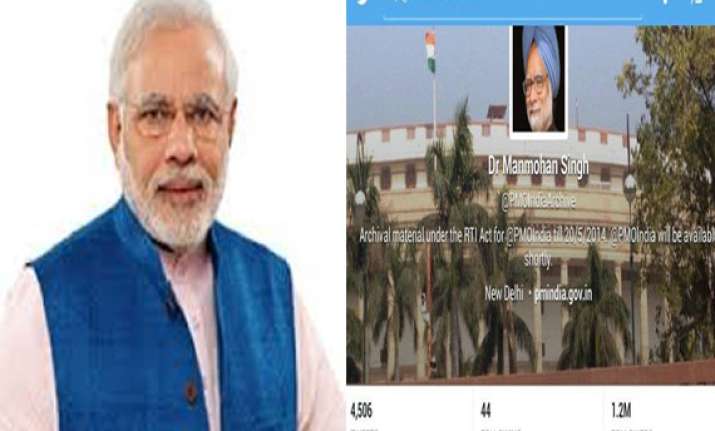 New Delhi: Ending the prolonged controversy over change in PMO's twitter handle, the office of outgoing Prime Minister Manmohan Singh today said that the official twitter handle "@PMOIndia" has been handed over to the Narendra Modi government "along with its existing followers".
"The transfer of these digital assets to the incoming PMO administration has been arranged," said the Prime Minister's Office in a statement.
Earlier, a row erupted on Tuesday when the office of Manmohan Singh renamed the prime minister's Twitter handle, and an unknown person acquired the original name, in what the incoming regime called an "uncalled-for parting gift by the PMO".
Since January 2012, Dr Manmohan Singh has regaled the 1.24 million followers of the prime minister's official account on Twitter with blurry photographs, links to turgid Press Information Bureau releases, and festive tidings.
In one of the final acts of the outgoing government, the prime minister's office changed the name of its Twitter account from @PMOIndia to @PMOIndiaArchive and put it in cold storage.
The next prime minister, Narendra Modi, will have to build his own following.
BJP which has returned to power under Narendra Modi is questioning the decision.
The BJP said "Outgoing team PM Office has wrongly renamed Twitter handle of @PMOIndia against laws & accepted global norms of handover of digital assets".