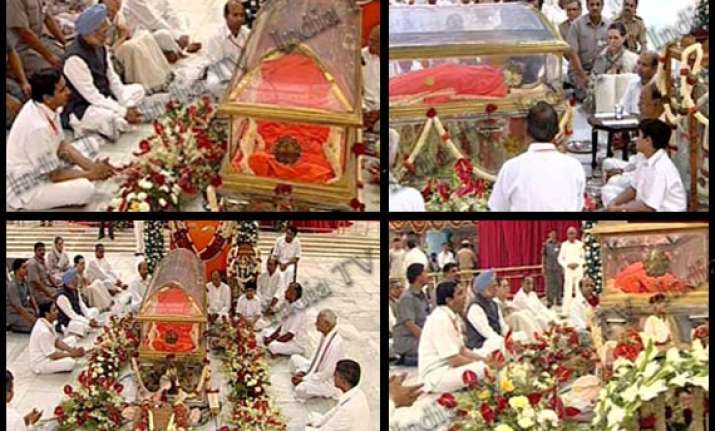 Puttaparthi (AP), Apr 26:  Prime Minister Manmohan Singh and UPA Chairperson Sonia Gandhi today led thousands of people in paying homage to Sri Sathya Sai Baba here this evening.

Both the leaders stood in silence in front of the glass casket containing the body of the spiritual leader, who died on Sunday, and placed wreaths at his feet and sat for a few minutes at the Sai Kulwant Hall.

They heard in rapt attention Sai bhajans being sung by followers before they left the hall.

Singh and Gandhi, accompanied by Union I&B Minister Ambika Soni, arrived here by a special aircraft and drove straight to Prashanthi Nilayam, where baba's body was lying in state in the Sai Kulwant hall.

Earlier, Andhra Pradesh Governor E S L Narasimhan, Chief Minister N Kiran Kumar Reddy, who reached Puttaparthi in the afternoon, received Singh and Gandhi at the airport and accompanied them to Sai Kulwant hall.

Sai Baba would be buried in the Sai Kulwant hall here with full state honours between 9 and 9.30 am tomorrow.

The Governor and Chief Minister will stay in Puttaparthi and attend the burial ceremonial, officials said.

Earlier, Gujarat Chief Minister Narendra Modi, former Prime Minister H D Deve Gowda, his son and former Karnataka Chief Minister D Kumara Swamy and Sri Lankan Minister Basil Rajapaksa were among those who paid homage to Sai Baba.

Speaking to reporters, Modi said, "I have been coming here for the past 30 years and its a great loss to not only me but to Gujarat as well".

Others who paid homage to Sai Baba included former Sri Lankan cricketer Arjuna Ranatunga and his wife, VHP leader Ashok Singhal, Swamy Nityanda, santoor player Pandit Ravi Shanker, playback singer Suresh Wadekar and drummer Sivamani.

Meanwhile, ordinary devotees flocking Prasanthi Nilayam here for a final darshan of Sathya Sai Baba are left disappointed as they are unable to catch a glimpse of his mortal remains even as the rich and the mighty are being extended special privileges to get closer to his body.

The queue lines for the common devotees are blocked at least 30 feet away from the glass casket in which the Baba's body is lying, depriving them of a clear view.

Added to this, a platform erected for a lone camera, along with the equipment and the cameraman too are blocking the view for the devotees, leaving them totally anguished.

VIPs apart, only a select few are being allowed to go near the Baba's body for a clear darshan.
"We came all the way from Payakaraopet in Visakhapatnam district and stood in the serpentine queue for more than three hours in the wee hours today. In the end, as we entered the Sai Kulwanth Hall, we could hardly catch a glimpse of the Baba's body. All we could see from the distance was the Baba's orange robes as the face was not at all visible," complained N Appalanaidu.His wife and son too could not see anything as suddenly some influential person went near the Baba's body and they were pushed aside in the queue.

While the VIPs and the rich devotees, who are said to be regular donors to the Satya Sai Central Trust, are able to get up close to the Baba's body, another special line was formed a few feet away to enable friends and relatives of Trust members, government officials and police to get a glimpse.

From this line, the Baba's face can be seen from a side angle but access is restricted only to a select few.

Many foreign devotees who flew down to Puttaparthi too are decrying the discrimination. "During my earlier visit to Sai Kulwanth Hall when the Baba was alive, I could see him closely. Now, I had no such luck," Dissanayike from Sri Lanka lamented.

The situation turned worse this morning as the queue was moved further behind as a security measure in view of Prime Minister Manmohan Singh's visit.  PTI