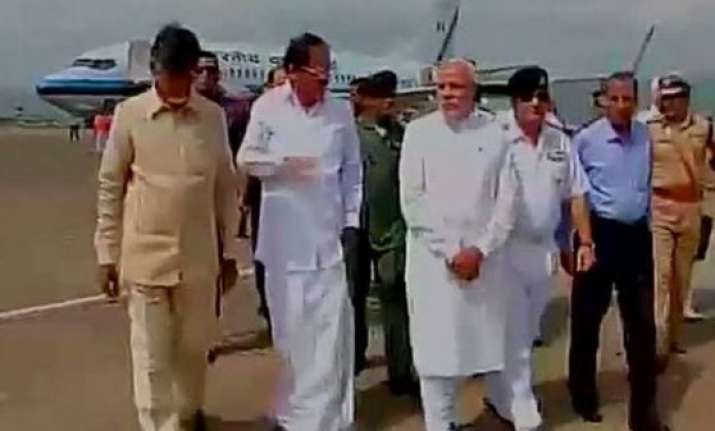 Visakhapatnam/Hyderabad: Prime Minister Narendra Modi arrived here to review the situation in the aftermath of cyclone Hudhud that has claimed 21 lives and left a trail of destruction in coastal Andhra Pradesh.
He was accompanied by Union Minister Venkaiah Naidu and other top officials.
Soon after landing at Visakhapatnam Airport, he inspected the facility extensively damaged by cyclonic storm Hudhud on Sunday. Officials briefed him about the damages.
Andhra Pradesh Governor ESL Narasimhan, Chief Minister N Chandrababu Naidu and Civil Aviation Minister Pusapati Ashok Gajapathi Raju were present at the airport.
Modi will visit the beach and some other parts of the city, which bore the brunt of the cyclone.
Modi will review the situation at a meeting to be held at the office of district collector. He will then undertake an aerial survey of the other affected areas.
The Chief Minister earlier said he would brief the Prime Minister of the situation and give him details of the devastation caused by the cyclone.
The Prime Minister will also make an aerial survey over southern Odisha districts hit by the cyclone.