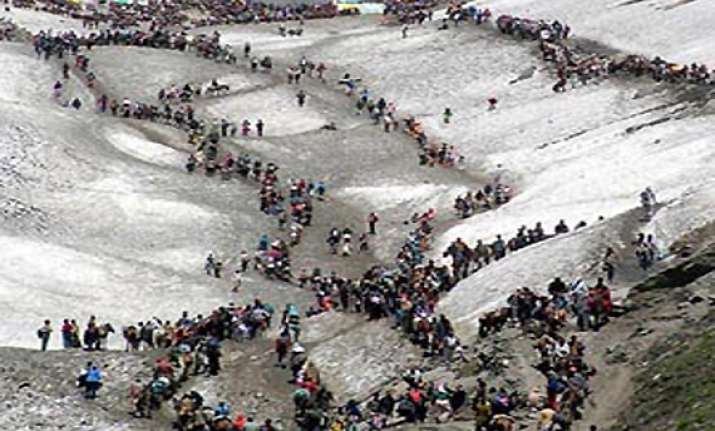 Jammu, Jun 26: Over 18,000 pilgrims have paid obeisance at the shrine of Lord Shiva during the annual Amarnath pilgrimage in the first three days. 
Over 18,000 pilgrims have performed darshan of the holy Ice Lingum of Lord Shiva at the 3,888 metre-high Amarnath cave shrine in south Kashmir Himalayas, officials said today.  
"The yatra is going on smoothly as pilgrims are paying obeisance without any difficulty," they said.  
Amid tight security, a third batch of 1,716 pilgrims today left the Jammu base camp for the Amarnath cave shrine.  
The pilgrims comprising 921 men, 388 women, 62 children and 345 sadhus left in a cavalcade of 76 vehicles, including 47, buses from Bhagwati Nagar base camp in Jammu at around 0430 hour for Amarnath, police officials said.  
They were escorted by the CRPF and convoy of yatra has already crossed Chanderkote in Ramban district, they said.
With today's batch, as many as 6,199 pilgrims have left Jammu for their onward journey to the cave shrine.  
To ensure incident-free and peaceful pilgrimage, CRPF has deployed 57 companies for the yatra security.  
"As many as 57 security companies have been deployed for the yatra in Jammu and Kashmir," a senior CRPF officer told PTI.
Of these, 12 companies have been put on job for security of the Amarnath yatra in Jammu region, while 45 companies have been deployed in the Valley for the yatra purpose.  
There are some ITBP and BSF companies deployed in south Kashmir Himalayas—the abode of the cave shrine.