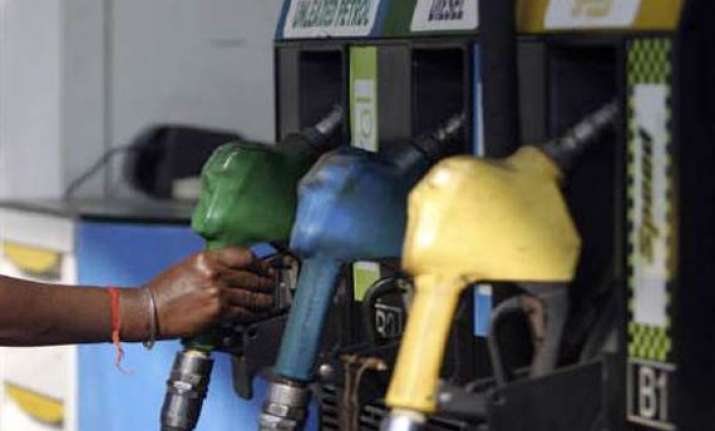 New Delhi, May 14: Within hours of the Election Commission lifting the Model Code of Conduct enforced for the recently concluded state assembly elections, the Centre swung into action and hiked the price of petrol by a whopping Rs 5 per litre effective Saturday-Sunday midnight.

This is the biggest ever price increase of the fuel in recent years. 

The steep hike in petrol price is likely to be followed by a Rs 4 per litre increase in diesel rates and Rs 20-25 per cylinder increase in domestic LPG price later this month.

Petrol in Delhi will cost Rs 63.37 per litre at Indian Oil Corporation (IOC) outlets in the national capital from Sunday as against Rs 58.37 a litre currently, an official said here.

Even after Saturday's hike, oil companies will continue to lose Rs 5.50 per litre and another increase in price is on cards soon, he said.

Bharat Petroleum (BPCL) hiked price by Rs 4.99 per litre and Hindustan Petroleum (HPCL) by Rs 5.01 a litre.

Petrol at BPCL outlets currently costs Rs 58.39 per litre and at HPCL pumps Rs 58.38 a litre.

The increase in petrol price, which the oil firms had been holding since January even though crude oil had touched a two-and-a-half-year high, came a day after election results of five state assemblies were announced.

The government had in June last year freed petrol price from its control but oil companies continued to follow 'informal' advice from the oil ministry on rate revision.

The three firms had not raised prices since January in view of assembly elections in states like West Bengal, Tamil Nadu and Kerala.

"The hike needed to make domestic rates at par with international prices was Rs 10.50 per litre but oil companies choose to hike rates by less than half of that," the official said. "Another hike in petrol price is on cards soon," he said.

This is the eighth hike in petrol price since the June 2010 decision. Petrol in Delhi cost Rs 51.43 after the June 26 decision of the government deregulating its price.

The official said Saturday's hike in petrol price was made necessary because of rising borrowing of oil companies which faced severe working capital shortage in view of losses incurred on fuel sales.

IOC has seen its borrowing rise by Rs 15,000 crore in last 45 days as it loses Rs 296 crore per day on fuel sales.

Besides petrol, it loses Rs 18.19 per litre on diesel, Rs 29.69 a litre on kerosene and Rs 329.73 per 14.2-kg LPG cylinder.

As expected, the  Bharatiya Janata Party on Saturday criticised the hike in petrol price and alleged that the "anti aam-admi" government was waiting for the assembly elections to get over to make the announcement.

"The BJP strongly condemns this increase in price of petrol. The government which always harps on being with the 'aam admi' (common man) is betraying it. The UPA regime says it does not control price of petrol but kept a check on it till the elections," party spokesperson Shahnawaz Hussain said.

He described the price hike a "gift" from the government after the Congress victory in West Bengal and Assam. "This is a joke on the people," he said.

The main opposition maintained that the government could cut down on some of the central taxes to give relief to the people.

"In the last two years, the increase in petrol price has been by Rs. 23 per litre. This government should realise that when petrol prices go up, then prices of other commodities also go up," Mr. Hussain said.

The BJP will take this issue to the people through agitation on the streets as well as raise it in Parliament.

"This government has nothing to do with the welfare of the 'aam admi' and is only concerned about votes. Since the UPA came to power in 2004, petrol prices have increased 19 times. In the last nine months the increase has been done nine times," Mr. Hussain said.