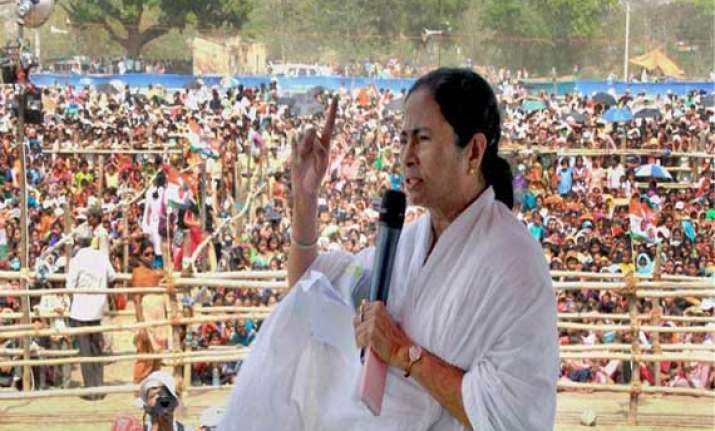 Kolkata : Apparently targeting BJP prime ministerial candidate Narendra Modi, West Bengal Chief Minister Mamata Banerjee Friday said the people will reject the person with "blood of riots" on his hands.
"People will reject the person with blood of riots on his hands. A divisive person can never become the prime minister," Banerjee, also the Trinamool Congress chief, said while addressing election rallies in north Bengal.
Without naming the Gujarat chief minister, she said while she loved the people of of the western state, "I cannot accept their leader".
Banerjee held three rallies during the day at Chopra, Islampur and Karandighi in North Dinajpur district.
In every rally, she attacked the Bharatiya Janata Party (BJP) and Modi, and alleged secret understanding between it, the Congress and the Communist Party of India-Marxist in the state. In another veiled attack on Modi, Banerjee said India being a parliamentary democracy, elections are not held for the prime minister's post.
"The MPs select the PM. Some people are dreaming of becoming the PM. They should first get a majority."
Banerjee renewed her attack on Modi a day after the BJP leader, addressing a poll rally in Siligur of Darjeeling district, charged the Banerjee government with competing in vote bank politics, and betraying the people's faith.
Ridiculing Banerjee, he said the "parivartan" (change) brought by the Trinamool was fake, and also referred to the Saradha Scam and the Siliguri-Jalpaiguri Development Authority scandal, which came to light during the Trinamool rule.
Modi also indirectly referred to the alleged involvement of some of its leaders in the muddle.
Accusing the BJP of pursuing a "divisive politics on religious lines", Banerjee said: "Voting for BJP means voting for riots". On the other hand, the Congress wanted to woo the Muslims, she said."But Trinamool works for everyone irrespective of the caste or creed."
Attacking the media, she said her party lacked money power, and could not "strike deals with media houses for paid news. We can only work for people".
Banerjee said since she came from to a modest family, and her party was poor, she was everybody's target.
"We do not have money to hire TV channels for our publicity," she said.