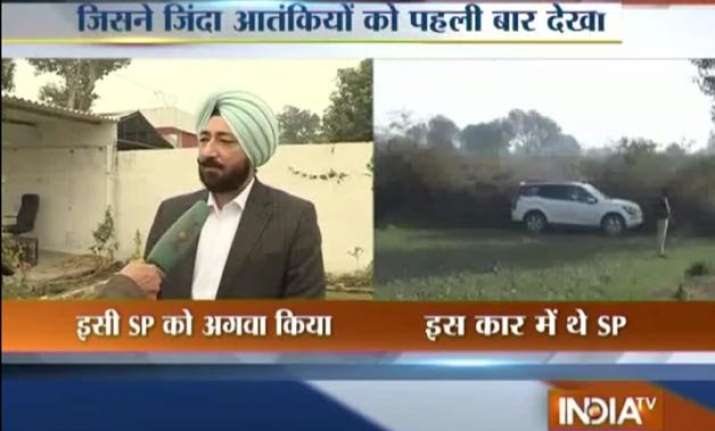 New Delhi: As security agencies try to sanitize the entire Indian Air Force base in Pathankot, Punjab, the three key witnesses to the terror attack by gunmen explained how they were abducted and later released by terrorists in their initial forays on New Year eve (Thursday) night.
Superintendent of Police, Gurdaspur, Salvinder Singh told India TV reporter Jagdeep Singh Sandhu that he considered his escape as nothing but "God's miracle".
Salvinder Singh said, his jeweller friend Rajesh Verma was driving the police chief's SUV. "I had gone to pay obeisance at the dargah with my cook and friend Rajesh. It was Thursday night. I can't forget that terrifying night.
"We left Gurdaspur at around 9.15 pm and went via Kathua. At about 11.30 pm we started to return via a short route to Gurdaspur. We took a road that we had never travelled previously.
Near Konia More, four to five persons wearing army fatigues and carrying AK-47 rifles stopped our vehicle, pushed me and Rajesh to the back, forced us to sit on the floor, and two of them sat with their feet on our back, all the while threatening: we will shoot you if you talk.
They used to kick us all the while as they drove the vehicle. They had put the rifles to our heads. One of them asked me to open my cellphone, I told me it is my son's touchscreen phone."
All this while, the terrorists had no idea that they had held an SP as hostage. This is how Salvinder Singh describes those moments: "They had put our clothes inside our mouths, and had tied us up. They threw me and my cook from the running vehicle."
"The terrorists came back to look for us when they knew from Rajesh that I was an SP. By then, both of us had sneaked out and reached a nearby village. I immediately informed the SSP about the gunmen."
Asked about the language spoken by the gunmen, Salvinder Singh said: "They were speaking in Pakistani. I do not know Urdu, so I could not understand what they were saying. For me, God has given me a new life. Whatever I am saying is 100 per cent true."
Madan Lal, working as cook for the SP, told India TV: "I had been praying at the mazaar of Khwaja saheb since the time when I was as young as 8 to 10 years of age.
Our SP saheb is also very religious. We decided to pay obeisance that night, and start our New Year the next morning. While returning, this tragedy occured."
Describing how he was roughed up, Madan Lal said: "They forced us to lie on the floor of the SUV, and beat us with the butt of their rifles. They covered our eyes and mouths.
They told us - if you behave properly, we will also behave with you. But if you try to act smart, we will kill you here and now. We did not say a word. Our Saheb, who was on the front seat, was forced to lie at the back of the vehicle. One gunman sat on me, and another sat on the back of my Sahib."
The cook said: "Our Sahib had two mobile phones. They snatched them away. Our Saheb's jeweller friend Rajesh was driving. They snatched away his phone too.
They threw him inside the dickey, and a gunman sat near him. One gunman was driving, and another sitting with him was giving him directions."
The jeweller Rajesh Verma described how he listened to the gunmen speaking for nearly four and a half hours, and was thrown out after the gunmen slit his neck, assuming he was dead.
Said Rajesh Verma: "They were speaking about some target. They were speaking with their commander. I was at gunpoint. They were speaking about the Air Force. They hit me with the rifle. Told me they had come to take revenge for Afzal (Guru).
"There were four gunmen inside the vehicle, all between the age of 18 to 22 years. They knew the layout, as they had GPRS system with them. They were speaking with their commanders. I was waiting for the dreadful moment of death. They were speaking in Urdu on phone. They used my phone. "
The gunmen then spoke to their handlers on Rajesh Verma's phone, according to the jeweller. "They told their commander that this was an SP's vehicle.
Their commander told them, then bring back the SP. They searched for the SP, but could not find him. The gunmen told me, we told your friends not to move before 8 am, yet they moved. So you face the punishment. We will send you to heaven (jannat naseeb ho). They then slit my neck, and threw me out.
"I ran towards a village, tied my wound with my shirt. The villagers called up my in-laws, who came and took me away", said Verma, recounting those dreadful moments.