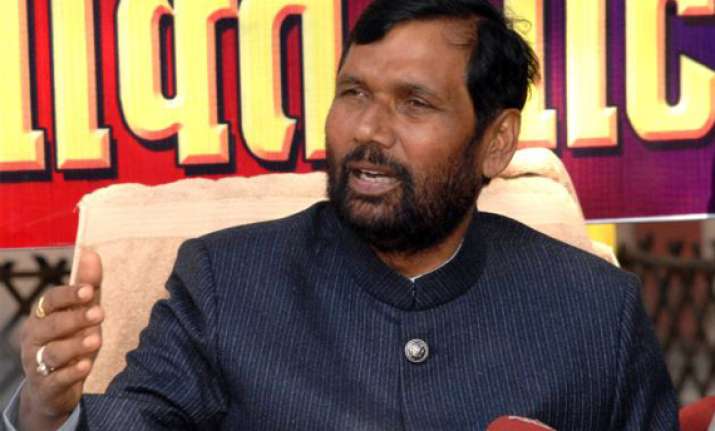 New Delhi, Apr 4: Lok Janshakti Party (LJP) chief Ram Vilas Paswan today demanded Bihar Chief Minister Nitish Kumar's resignation over the findings of a CAG report and also advised the Congress to stop seeing Kumar as a probable ally.  
At a press conference held here, Paswan said that he had met Congress leaders and questioned there silence over corruption in Bihar.
"On 3rd April 2012, CAG report was tabled in both the houses of Bihar. In this report, CAG has found that huge some of money has been misused, accounts not given, money spent for the purposes not meant for," he said.
Paswan said the Nitish Government, which had been "completely exposed by the CAG report" and was no longer fit to remain in office "in the face of serious charges of financial mismanagement, irregularities and corruption".  
He alleged that though graft in Bihar had reached serious levels, it had not been paid the commensurate attention at the national level.
Paswan said that he had spoken about the need to highlight this issue with the Congress leaders but was not satisfied with the response.
"I have asked them (Congress leaders) why is the Congress Government silent. When it was a question of Uttar Pradesh, each and every small thing was raised. Now Nitish Kumar Government has moved from one scam to another," Paswan said.  
"The Congress should not stay under any illusion that Nitish Kumar would leave BJP and join them," the LJP leader said.
He also complained that despite repeatedly attempting to raise this issue in Parliament, he had been unsuccessful as he did not have enough numbers.
"We have repeatedly tried to raise the matter in Parliament but we are pained to say that everytime we have been told that this is a state matter. Though CAG reports are a national issue," Paswan said.
"There it is a question of numbers. If we had ten-fifteen MPs we could have stopped the proceedings and all news channels would have highlighted the matter," he said.  
Paswan also said in a statement that the as per the CAG report on Bihar, till 14th September 2011, for the money withdrawn against AC Bills, no account has been given for Rs.22575.37 crores.
"CAG has reported that Rs. 409.15 crore was fraudulently withdrawn and for that sufficient evidence has been found," Paswan said.
He claimed that on the basis of the CAG report it can be concluded that massive fraud and corruption is taking place in Bihar in the name of development.
"Nitish Kumar government is budy ina cover-up operation by not allowing the true picture coming in press and diverting issue by bringing foreign dignitaries, advertisement etc," Paswan said.
He said that the matter should be inquired into by the CBI and in order to ensure a free and fair probe, Nitish Kumar should step down.