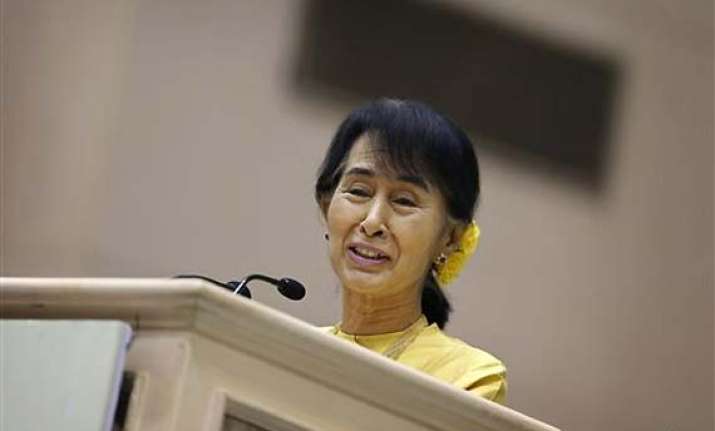 New Delhi, Nov 14: Oxford-educated Myanmar pro-democracy leader Aung San Suu Kyi Wednesday said her education in the British university in the mid-1960s soon after her graduation in India did not take her away from the Indian influence, as she made a number of Indian friends in Britain.
Delivering the Nehru Memorial Lecture here, Suu Kyi, who is in India after a 25-year gap, said she also had the opportunity to come back to the Shimla-based Indian Institute of Advanced Studies for a year in 1987-88.
Recalling her early education in India and her association with the country, Suu Kyi said: "In 1964, I went to Oxford for higher studies. But Oxford did not take me away from India. I made many Indian friends out there too."
Recalling her foray into the political cauldron in Myanmar in 1988, Suu Kyi said her nation was in a state of upheaval and her major concern then was to unite the divided people and make them into an united force for democracy.
Referring to her years of house arrest in Yangon, Myanmar's capital and her home city, the leader of National League for Democracy said India's first prime minister Jawaharlal Nehru's book "Discovery of India" was a constant to provide her company during her "lonely" days.
Congress president Sonia Gandhi welcomed Suu Kyi at the event and praised her for the democracy movement that she leads in her homeland. The 67-year-old Nobel laureate is in India on a visit that ends Nov 18.