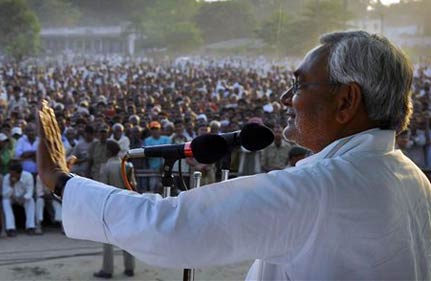 Patna, Nov 25:  141 newly elected members of Bihar Assembly have pending criminal cases against them on charges like dacoity, murder, kidnapping and theft.
A survey done by National Election Watch - Association of Democratic Reforms, an umbrella body of about 1,200 NGOs, based on the affidavits filed by the candidates said out of these 141 MLAs, 58 each have won elections on the tickets from Janta Dal (United) and Bhartiya Janata Party, 13 are from Rashtriya Janta Dal and five are independent candidates.
Three MLAs each are from Congress and Lok Janshakti Party and one from Communist Party of India, it said.
JD (U) candidates Pradip Kumar, who won from Warsaliganj constituency, has the highest number of 27 serious IPC counts against him followed by Shivji Rai and Narendra Kumar Pandey of Madhuban and Tarari constituencies respectively who have 14 and 13 serious IPC counts against them, the assessment said.
The 2005 Bihar Assembly had 117 MLAs with pending criminal cases, it said.
The report was made after analysing 241 affidavits out of the total of 243.
According to the assessment, 47 MLAs have declared their assets of more than a crore. Topping the list is RJD's Dr Faiyaj Ahmad, who won from Bisfi constituency. He has declared assets of Rs 15.83 crore followed by BJP's Suresh Kumar Sharma (won from Muzaffarpur seat) with Rs 9.10 crore and JDU's Raju Kumar Singh, who won from Sahebganj seat and has movable and immovable assets worth Rs 6.46 crore.
There were eight 'crorepatis' among the winners in last Bihar Assembly elections.
A total of 76 MLAs have not declared their pan card details, the report said.
"Our aim is to bring transparency and restrict entry of criminals into the politics. We will be creating awareness among people to choose candidates with clear background," said Anil Bairwal, National Coordinator, ADR-NEW. PTI