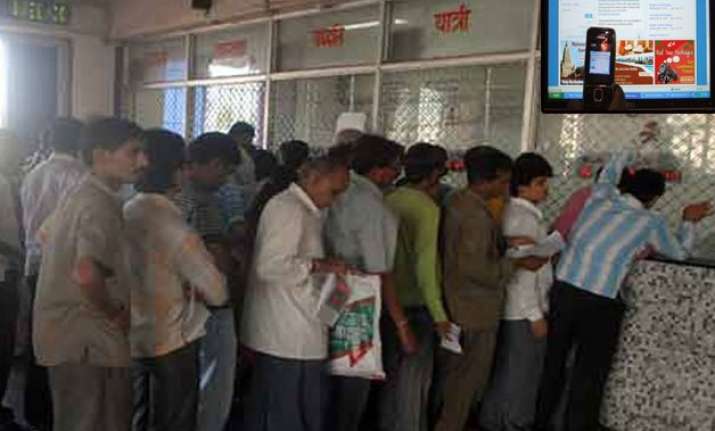 New Delhi: The one minute gap between 8:00 AM and 8:01 AM is the time when a shocking menace occurs in the Indian railway system.
At this time, touts, who sell tickets at higher price to passengers in need, exploit a "facility" in the passenger reservation software of IRCTC as per which someone who has already purchased a ticket can alter journey details and book another train within seconds at the last moment.
Touts, in order to earn extra money by selling tickets "illegally" at higher price, take advantage of these sixty seconds to the fullest. They buy tickets for a relatively less popular train a day in advance and then swap them for tickets on popular trains like Rajdhanis, Durontos and other long-distance trains during this time.
This takes only a couple of seconds as their details are already fed in the system.
As published in a report by Indian Express, Ajay Shukla, Member (Traffic), Railway Board said, "Touts would buy any ticket a day in advance and the next day, they would get ticket details changed. The booking clerk merely had to generate another PNR with the passenger details already fed into the system a day earlier. This took seconds."
An internal investigation by the Railways has revealed that everyday around 4000 confirmed berths are booked by touts in this manner within a minute when the computer reservation system is thrown open to public.
An involvement of booking clerks and insiders has also been observed. The Railway Ministry has now plans to take action against the offenders.
Shukla told the facility was disabled for the first hour for some days in order to check the menace. With this, now, instead of 4000 journey/train changes within a minute only a few changes were observed throughout the day which could possibly be genuine passenger transactions.
How Railways would get rid of this one-minute scam
Railway has now plans to seek help of a software expert in order to curb the nuisance. The Railway Protection Force (RPF) and Western Railway will restrain the touts using their technique only.
According to Anand Vijay Jha, the senior divisional security commissioner of Western Railway, "Those booking online tickets illegally always use software for it. The division has allowed us to hire an expert to check this. Their services will be availed form next week."
In order to bring the booking system back on track and make the tickets available directly and genuinely to the interested passengers, RPF has conducted a lot of raids in 2015. However those caught get released on a bail of merely Rs 3000.
Railway has also made amendments to the rule of changing the ticket details between 8 and 9. Now, people would not be able to alter their ticket time between the first hour of the ticket-buying.
Shukla also told that now onwards the system would automatically log-out after booking ticket once. He said, "This can help control the situation."
Every day, around 5 lakh tickets are booked on the IRCTC website.
Jha told that in the last 15 days 16 raids have been conducted. He mentioned about one particular raid conducted on 14th March in which, along with the culprit who booked tickets illegally, the one who developed software for him was also caught.
An action would be taken against them as per section 143 of RPF, he told.  The RPF officer also said that soon along with the accused and the software developer, those who will buy tickets from touts will also be detained.
Expected is, that soon Railway might start using OTP (One Time Password) option to curb the growing menace.
AK Manocha, the chairman of IRCTC is also open to suggestions from experts who can help make the site foolproof.