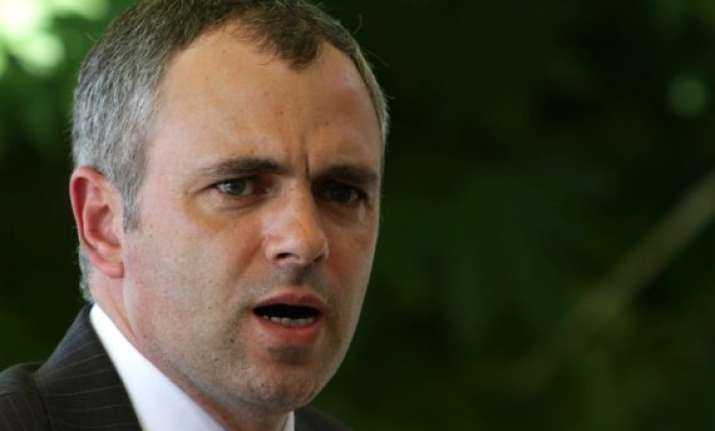 New Delhi: Jammu and Kashmir Chief Minister Omar Abdullah today attacked the Narendra Modi government for suspending talks with Pakistan over a "cup of tea" with separatist Hurriyat Conference and said India has set up a difficult benchmark for resumption of talks.
Speaking on a variety of issues including the resolution passed by the Jammu and Kashmir Legislative Council seeking resumption of dialogue with Pakistan, Omar said cancellation of talks with Pakistan was "demoralizing" people of his state.
The chief Minister also debunked BJP's 'Mission-44' for the forthcoming Assembly elections, saying it was one of those nice Bollywood glitz slogans like 'love jehad'.
"What BJP is trying to do is to cozy up to separatists so that they can take advantage of boycott call in some seats and basically wrest those seats away into their kitty but the 44 number is a pipe dream, that's not happening," he said.
On the cancellation of talks, Omar said, "It basically just demoralizes the people because at the end of the day we only see a solution emerging out of dialogue. We had 25 years of violence, we had wars, we had skirmishes but we haven't seen a solution.
He said the Modi government had raised the expectations of the people of the state, which bore the brunt of failure of talks.
"You are the ones who were all buddy buddy sending each other shawls and saris and mangoes and all the rest of it. All that you put in Punjabi 'jhapiyan-pappian' (hugs and kisses).  What happened to all that? You raised our expectations and hopes that this process was going to go forward and now over a cup of tea you dash them," he said.
The Government cancelled Foreign Secretary-level talks with Pakistan scheduled for August 25 after Islamabad refused to agree to India's demand of not entertaining Hurriyat leaders from Jammu and Kashmir.